"Twenty-eight year-old Jennifer Brea is working on her PhD at Harvard and soon to be engaged to the love of her life when she gets a mysterious fever that leaves her bedridden and looking for answers. Disbelieved by doctors and determined to live, she turns her camera on herself and her community, a hidden world of millions confined to their homes and bedrooms by ME, commonly called chronic fatigue syndrome." (ME/CFS).
Location
CINEMA 15. Hoyts Entertainment Quarter
206 Bent Street,
(pedestrian mall between Errol Flynn Boulevard and Bent Street), Moore Park NSW 2021
How to get to the cinema
Please note: Unrest is being screened tonight in cinema 14. Cinemas 14 to 17 are located in a separate complex to the main Hoyts Entertainment Quarter cinemas (previously Cinema Paris). It is closer to the car park and about 150 metres from the main complex. The best place for drop off is in the car park; the lifts are 50 or 60 metres from the cinema.
The car park has two sets of lifts - one at either end. Cinemas 14 to 17 are on the far side of the building across the road from the lifts. Health Club gym faces the entrance to cinemas 14 to 17.
Car parking is free for the first 2 hours and you can extend to 3 hours by having your ticket validated at the Hoyts' kiosk.
There are several cafés very close to the cinema and there is seating in the foyer for more than a dozen people.
Unfortunately, the bus stop for most buses is over 500 metres away. Buses travelling between Bondi Junction and Newtown Metro stop about 250-300 metres from the cinema.
Perfumes and Scents
Many people with ME/CFS are sensitive to chemicals and scents. For their health benefit, please avoid wearing perfumes or other scents; especially strong smelling ones.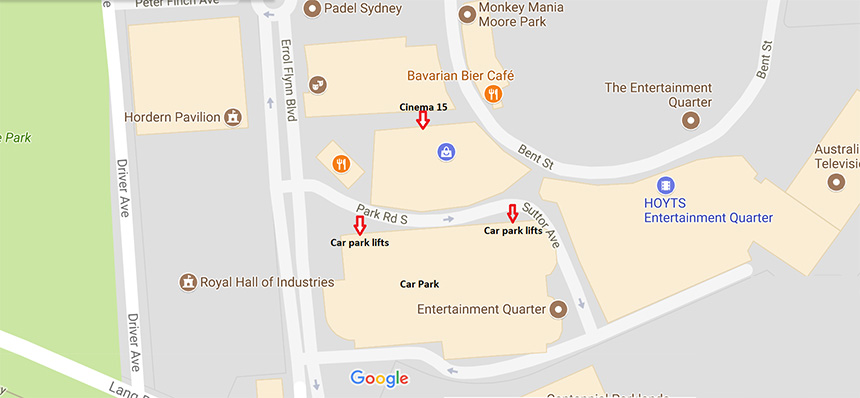 WHEELCHAIR SPACES
If you are in a wheelchair and will need to remain in your chair for the screening, please contact us (e-mail address below) as spaces are limited.
Contact Details