The Australia of the French Explorers
The Australia of the French explorers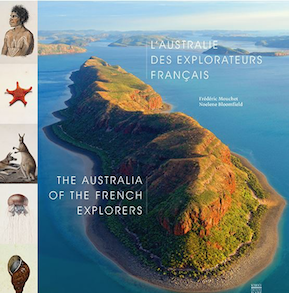 for $50 only (+shipping or no charge for collection)
instead of the $65 usual price!
The Australia of the French Explorers tells the fascinating story of French explorers around
Australia's southern coast 200 years ago, and highlights the beginning of the relationship between
France and Australia.
This beautiful bilingual coffee table book combines Frédéric Mouchet's magnificent contemporary
photographs with historical commentary by Noelene Bloomfield describing the outlook of those
explorers who took part in French expeditions to Australia.
Visually attractive, with sumptuous photography and
evocative descriptions both in English and French, this
book is the perfect gift for those interested in this
aspect of French-Australian history.
We are pleased to offer a special price
for only $50 (+shipping or no charge for pick-up)
instead of the retail price of $65
Address for book pick-up:
342A St Kilda Rd, Melbourne, VIC 3004
Opening Hours:
Monday to Friday: 9am to 1pm - Monday to Thrusday 2pm to 5pm