Natural Dye Workshop (SOLD OUT)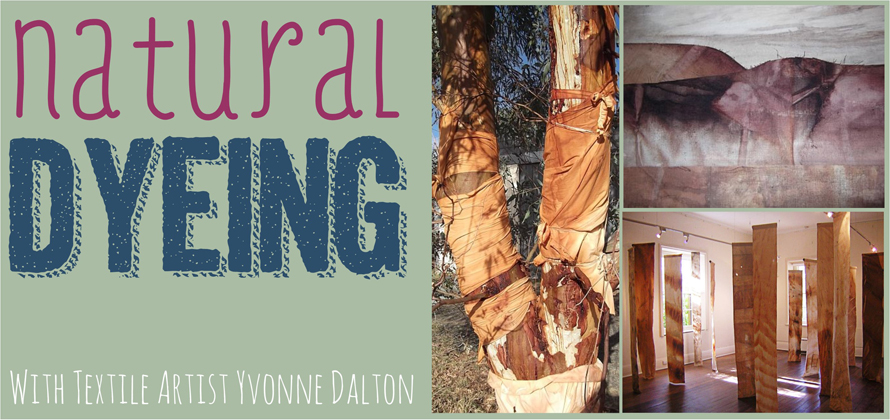 Part art, part science, part experimentation, all fun! A practical hands on workshop where you will learn sustainable techniques for natural dye extraction using plants. Covers preparation, process and use of natural dyeing techniques and how to create different dyeing effects. This workshop will primarily focus on natural dyes for fabrics, giving you the means to recreate and renew clothing and textiles in a sustainable and ecologically mindful way.
Yvonne Dalton is a practicing textile artist based in Keyneton who has exhibited in Australia, and also featured in international textile publications. Whilst experienced with a wide variety of dyeing techniques, Yvonne prefers to focus on processes that avoid chemical treatment of the textiles, and has experimented widely with native dye plants. Her techniques result in beautiful colours and textures that reflect the landscape in its moods and seasons. Her passionate commitment to the natural environment and a sustainable future is reflected in her work.
Sunday 28th January 2018, 10am start - 4pm.
Cost: $65 / person. All materials provided. Includes tea, coffee & light refreshments
Location
Mount Pleasant Natural Resource Centre Inc
132 Melrose Street, Mount Pleasant South Australia 5235
Entry via Melrose St (Main st of Mount Pleasant), opposite the Soldiers Memorial Hall
Participants are welcome to bring their own lunch (fridge and microwave facilities provided), or there are two bakeries in Mount Pleasant.
Contact Details
Mount Pleasant Natural Resource Centre Inc
Faye Mc Goldrick, Coordinator
ph. 08 8568 1907
email. mpnrc@bigpond.com
The Mount Pleasant Natural Resource Centre's booking terms and cancelations fees apply to all workshop bookings. Please read our Full Terms and Conditions on our website http://www.mpnrc.org.au
The Mount Pleasant Natural Resource Centre Inc is supported by our amazing volunteers and community, The Barossa Council, and the Adelaide and Mount Lofty Ranges and South Australian Murray Darling Basin Natural Resources Management Boards, through funding from the Australian Government's National Landcare Programme and the NRM Levy.