Melbourne's Nobel Peace Prize Celebration (SOLD OUT)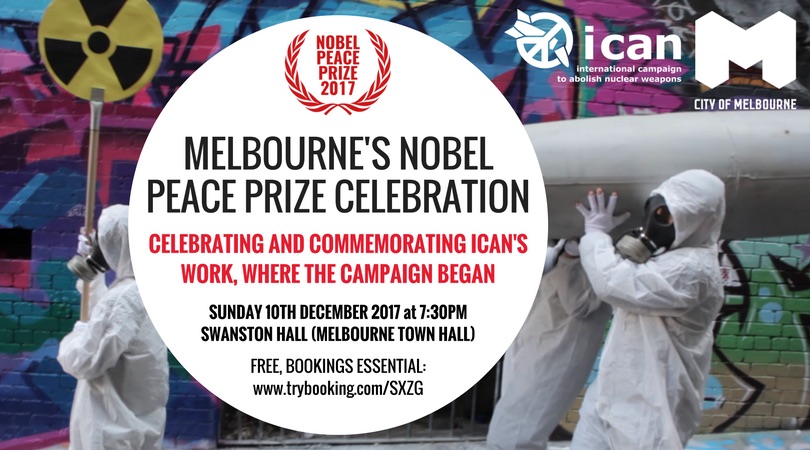 On December 10, ICAN will be awarded the 2017 Nobel Peace Prize in Oslo, Norway.

Join ICAN in partnership with the City of Melbourne, where the campaign began to stigmatise, prohibit and eliminate nuclear weapons.

The evening will involve short speeches by ban champions, an art auction, live music and a live cross to the Australian team in Oslo.
Victorian Attorney-General, the Hon. Martin Pakula MP
Special video message to ICAN from Premier Daniel Andrews
Cr Rohan Leppert, chair of the Arts, Culture and Heritage portfolio of the City of Melbourne will represent the Lord Mayor, and the City of Melbourne

Karina and Rose Lester are the Yankunytjatjara-Anangu daughters of the late elder Yami Lester, who was blinded by the nuclear bomb tests in South Australia. The Lester sisters have played a vital role in exposing the humanitarian impacts of nuclear weapons in Australia.

Labor Senator Lisa Singh is one of ICAN's greatest parliamentary supporters. Senator Singh has spoken out in favour of a ban treaty countless times and helped bring to light crucial information on Australia's position.

Greens leader Senator Richard Di Natale

is spearheading the demand within Parliament for Australia to sign on to the Treaty on the Prohibition of Nuclear Weapons.

Vanessa Griffen is a Fijian campaigner for a world free of nuclear weapons. Vanessa helped form the Nuclear Free and Independent Pacific network and has worked tirelessly with Pacific governments to build support for a ban treaty.

Felicity Ruby was the first staff member of ICAN.

Gem Romuld is the current Outreach Coordinator for ICAN in Austral

ia.
Jonathan Wilkinson is a Melbourne barrister who practices in commercial law.

Live music from the Glitter Rats.
Location
Swanston Hall, Melbourne Town Hall
90-130 Swanston St, Melbourne Victoria