Which Way Home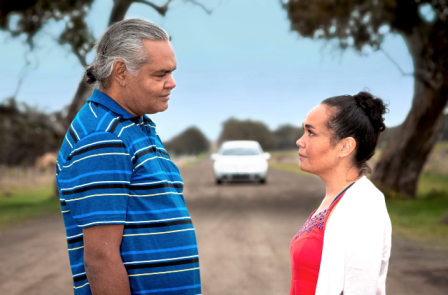 "Perfectly pitched between humour and pathos" – ★★★★ The Age
"A warmly affirming window on Indigenous family life" – Sydney Morning Herald
Tash and her Dad are going on a road trip. Home to country, where the sky is higher, and the world goes on forever.
It's a long way from the wide streets and big old houses of Tash's childhood. Two Black faces in a very white suburb. Dad still thinks he's the king of cool, but he's an old fella now. It's time for Tash to take him home.
ILBIJERRI Theatre Company tells stories about what it means to be Indigenous in Australia today. Infused with humour and heart Which Way Home draws on writer Katie Beckett's own memories of growing up with her single Aboriginal father.
WHEN:
Friday 25 May, 1pm (matinee) and 8pm
Saturday 26 May, 1pm (matinee) and 8pm
VENUE: FCAC Performance Space
COST: Full $35 / Concession $25
Running Time: 60 minutes
Interval: No interval
Latecomers: Latecomers can only be admitted at a suitable point in this performance Warnings: Occasional coarse language and sexual references
Writer: Katie Beckett
Director: Rachael Maza
Performers: Katie Beckett & Kamahi Djordon King
Sound Designer: Mark Coles Smith
Set & Costume Designer: Emily Barrie
Lighting Designer: Niklas Pajanti
Dramaturge: Jane Bodie
Production Manager: Nick Glen & Jake Jobling
Stage Manager: Kellie Jayne Chambers
---
ILBIJERRI:
ILBIJERRI is one of Australia's leading theatre companies creating innovative works by Aboriginal and Torres Strait Islander artists.
Location
Footscray Community Arts Centre Performance Space
45 Moreland Street, Footscray victoria 3011
IMAGE:
1 – Which Way Home. Image by Steven Rhall.