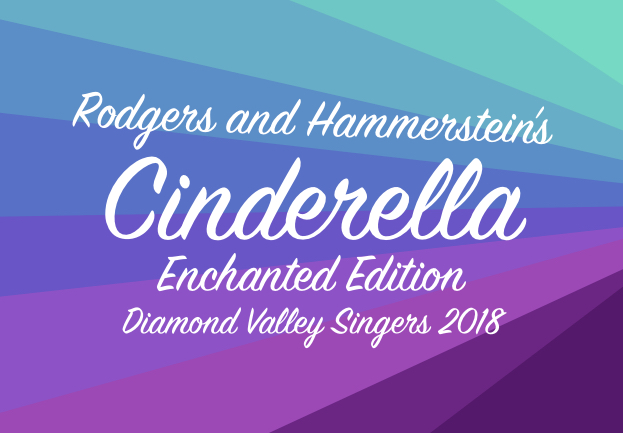 AUDITIONS for Diamond Valley Singers production 2018


Performances are with the Eltham Orchestra
Rodgers and Hammerstein's
Cinderella
Enchanted Edition
Cinderella is presented with permission of ORiGiN™ Theatrical
On behalf of R&H Theatricals www.rnh.com
The timeless enchantment of a magical fairy tale is reborn with the Rodgers & Hammerstein hallmarks of originality, charm and elegance. As adapted for the stage, with great warmth and more than a touch of hilarity, the hearts of children and adults alike still soar when the slipper fits. This Enchanted Edition is based on the 1997 teleplay.
The booking window has now closed for this afternoon's auditions. We still have times available so contact 0407 552 049 if you would like to make a booking. Please note backing tracks are acceptable for these auditions, or we have an accompanist available (sheet music in the key in which you sing it, no transpositions).
DIRECTOR/CHOREOGRAPHER - Tamblyn Smith
ASSISTANT DIRECTOR - Jennifer Wilson-Richter
MUSICAL DIRECTOR - Lucas Wilson-Richter
PRODUCTION MANAGER - Angela Hennel
Roles
CINDERELLA
HER FAIRY GODMOTHER
HER STEPMOTHER
GRACE - her awkward stepsister
JOY - her sullen stepsister
CHRISTOPHER - a charming young prince
LIONEL - his royal steward
QUEEN CONSTANTINA - his mother
KING MAXIMILLIAN - his father
CHARLES - a cat who will become a Coachman
4 WHITE MICE - who will become Horses
A DOVE - who will become a Footman
VILLAGERS, MERCHANTS, MAIDENS AND PALACE GUESTS
Rehearsals Monday and Wednesday evenings and Sunday afternoons.
Performances
Friday July 6, 8pm
Saturday July 7, 2pm & 8pm
Sunday July 8, 2pm
Wednesday July 13, 2pm
Friday July 13, 8pm
Saturday July 14, 2pm & 8pm

Please Note: Cast and chorus 18 year and over will require current working with children cards.
Diamond Valley Singers is a community group and require all cast and chorus to be financial members. A show fee will also be applicable.

Please prepare one Broadway style song that is not from Cinderella. You will also be asked to participate in a cold reading from the show.

Call-backs, if required, Monday February 19 from 7:30pm

For further information and role descriptions please visit our web site HERE

Venue
Uniting Church
80 Main Hurstbridge Road cnr Wensley St
Diamond Creek, Vic 3089
Map HERE
Contact Details:
Angela t: 0407 552 049, e: a-hennel@netspace.net.au