A Fine Romance: The Magic of Fred Astaire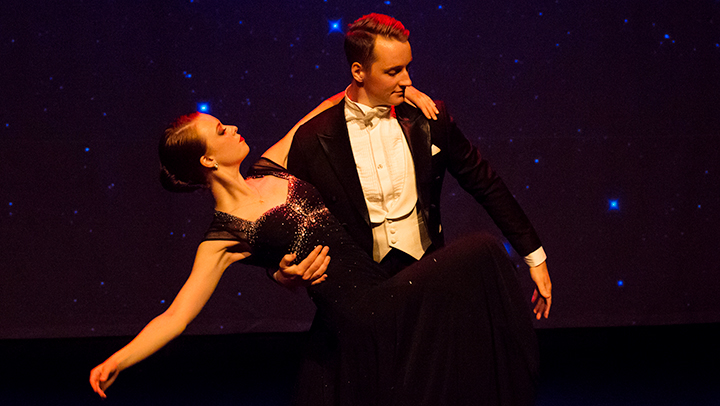 When: Wednesday May 23rd 2018 at 12pm and 7:30pm.
The 12pm show is part of our Lunchtime Escapes series of shows and will be accompanied by high tea from 11am. The high tea is included with the ticket price and includes cakes, sandwiches, scones, and a selection of tea and coffee (no discounts if you choose not to partake in high tea).
Time: Doors open at 11:00am for a 12:00pm performance and 7:00pm for a 7:30pm performance
Tickets: All tickets are $15 and are available from the Central Wheatbelt Visitors Centre or online at www.cumminstheatre.com.au
About the Show:
A Fine Romance: The Magic of Fred Astaire is all about Fred Astaire and his many leading ladies. Performed by a Leading Man and a Leading Lady, with an accompanist on piano, the show takes a look at Fred's life, his love, his career, his music and of course, his dancing.
The show is a narrative 65 minute concert/cabaret with both performers singing, dancing and telling engaging stories about Fred and the women in his life.
With plenty of tap-dancing, swing, waltz and ballroom dancing, and several costume changes together with memorable music, this show has something for everyone. They will laugh and cry and sing-along as they are taken on a musical journey back to the era of glitz and glamour.
With sold-out shows during their 2016 Country Arts South Australia Tour, sold-out shows on their 2017 Victoria and Queensland tour and sold-out shows during their 2017 Melbourne Season, audiences will simply fall in love all over again with the magic of Fred Astaire. This show is breaking box office records everywhere it goes!
"...........stylishly blends toe-tapping songs, dance, music and narration to celebrate Fred's life." – Cheryl Threadgold, Melbourne Observer
"For any lovers of the musical movies of yesteryear and the stunning dancing the era was renowned for, this is a must see show" – Standing innovation
"From their first appearance on stage to their exit sporting a top hat and glamorous gown (respectively), the actors bewitched the audience with their charm, their brilliant dancing and their simple joie de vivre. Every song, every routine became a bonus as the audience allowed themselves to be drawn into a world of their past or a world that was new but too attractive to leave" – Suzanne Yanko, Classic Melbourne
Location
Cummins Theatre
31 Bates Street, Merredin WA 6415