Cosmic Enterprise (SOLD OUT)
Cosmos: Journeys Through the Universe
The City of Perth Library is pleased to present Cosmos: Journeys Through the Universe with Dr Danail Obreschkow, Senior Research Fellow, UWA node of the International Centre for Radio Astronomy Research.

Become an explorer of the universe! We are developing astonishing tools to find out about the cosmos: giant radio telescopes in Western Australia, gravitational wave detectors and space probes to explore beyond the solar system. Join us to discover the most exciting space and astronomy endeavours of our time.

Presenter: Dr Danail Obreschkow
Location
City of Perth Library
573 Hay Street, Perth WA 6000
All ticket sales are final, no refunds will be provided. Substitutions are accepted.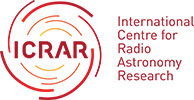 Dr Danail Obreschkow photograph by Andrew Ritchie, Community News.