Mental Health First Aid Training - Sale - May 2018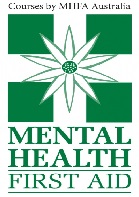 The 12-hour Standard Mental Health First Aid course teaches people (18 years and over) how to offer initial support to adults who are developing a mental health problem, experiencing a worsening of an existing mental health problem or in a mental health crisis, until appropriate professional help is received or the crisis resolves.
Session Times & Dates
This Training will be held over 4 nights: 5.30pm - 9.00pm, 16, 17, 30 & 31 May 2018. Light Supper will be provided.
Location
Lecture Hall, Community Services Building, Central Gippsland Health
off Palmerston Street, Sale, Victoria
Contact
Kerry Walker
Wellington Primary Care PartnershipPh: 03 5143 8845 Email: wpcp.admin@cghs.com.au