LANE COVE CATS


Sports Legends Lunch
VENUE:
Kirribilli Club
11 Harbourview Crescent, Lavender Bay NSW 2060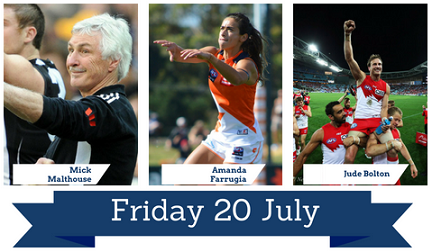 This year we have another great line up. Headling the lunch is AFL Legend Mick Malthouse. He is the record holder for the most games coached (718 games in total across four clubs), including 8 grand final appearances for 3 premierships (with West Coast and Collingwood). However, many forget he was also a very good footballer. He started his career in 1972, but excelled at Richmond where he played in six finals and the runaway premiership win over Collingwood in 1980.
We also have the privledge of having Giants AFLW Captain Amanda Farrugia. Born and raised in the western suburbs of Sydney, she began playing football in 2011 when she joined Macquarie University in the Sydney Women's AFL. After a strong period with them, she was drafted by the Giants in the 2016 AFL Women's draft and subsequently named the club's inaugural AFL Women's captain in January 2017.
Our final guest needs little introduction. Swans star and local resident Jude Bolton, will share his insights into the modern game
They will be joined by local funny man, Simon Kennedy as our MC for the event.
There will also be a host of sporting memrobilia on auction on the day.
Tickets $185
includes a 2 course meal, premium beer and wine
CONTACT DETAILS: Daniel Hynes, Amanda Webb or Matt Cunneen; legendslunch@lanecovecats.com