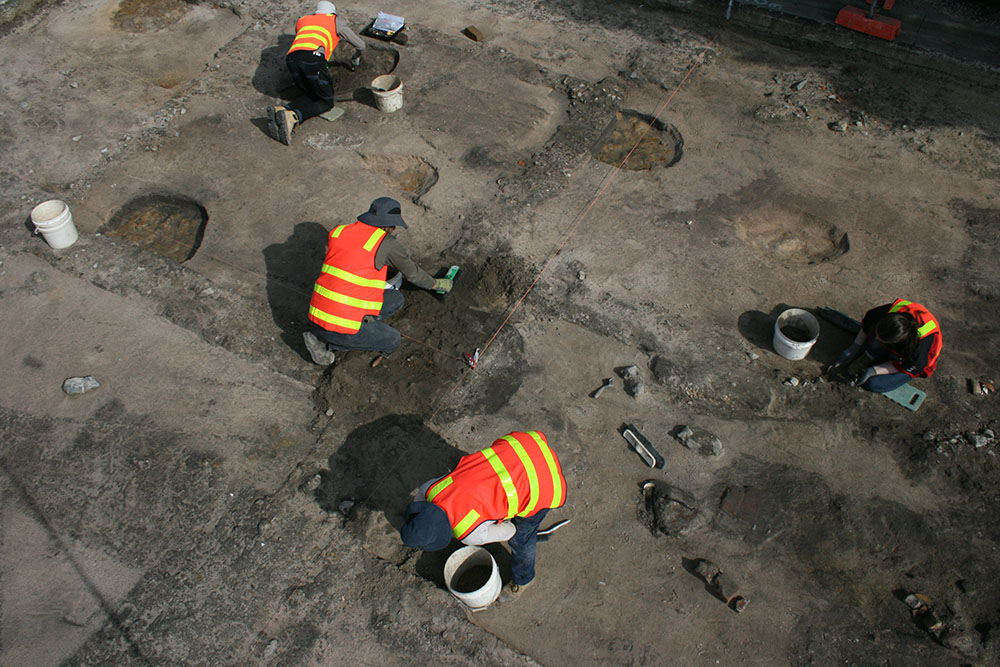 2018 Bruce Turner Presentation
An archaeological investigation of the Cato Street Carpark, Prahran with Dr Michelle Negus Cleary (Dr Vincent Clark & Associates).
Surface carparks dating from the mid-late twentieth century in urban contexts often provide protection and good preservation of archaeological structures and deposits related to earlier periods. This is certainly the case for many instances in Melbourne metropolitan area. The City of Stonnington have begun a major redevelopment of an existing ground-level car park that covers an entire inner-city block, transforming it into a new urban square and green space known as the Cato Square development. Dr Vincent Clark and Associates were commissioned to design and oversee the heritage management and archaeological investigation of the Cato Street Carpark historical site. This included a detailed hand excavation of 1100m2 in 2017, and a second stage monitoring of the construction works in 2018.
Michelle's talk will provide an update on the archaeological results from both the first and second stage. The results were surprising and revealed far more was preserved than expected at the site, ranging from the mid-19th century, first European occupation of Prahran, to a residential and emerging commercial phase of the 1860s-1890s, then the early to mid-twentieth century retail and light industrial transformation of this location behind Chapel Street. Remains of rural buildings and houses, terrace houses, wells and an entire basement high-end retail space of the Big Store were investigated. The project was an unique opportunity to archaeologically investigate such a large area of inner-city Melbourne within one of its most well-known and celebrated commercial precincts.
Location
Prahran Mechanics' Institute Victorian History Library
39 St. Edmonds Road, PRAHRAN VICTORIA 3181