'Pokies Play Whittlesea' Launch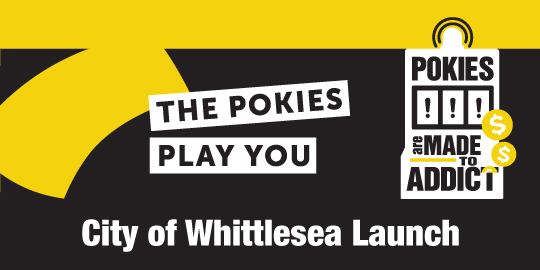 City of Whittlesea residents lose $293,000 to pokies

EVERY DAY!
.
Whittlesea is home to 691 poker machines and four of Victoria's top 10 venues for poker machine losses.
Last year, they drained over $103 million from our community!
Join with the Reverend Tim Costello, Whittlesea Mayor and Councillors and community leaders for the launch of the Pokies Play Whittlesea campaign to call on urgent reforms needed to reduce the harm associated with pokies.
Be part of our exciting launch and see how you can make a difference in calling for State Government reforms in the lead up to the next state election.
Join us on the 11th of July 2018 from 10am - 11.30am
Morning tea provided
Parking at Westfield can be busy.Parking is available at the Council offices, which is just a short five minute stroll away at 25 Ferres Boulevard.
RSVP by the 4th of July
For more information Contact
Michele Purtle 9217 2242 or pokiesplaywhittlesea@whittlesea.vic.gov.au

BESbswyBESbswyBESbswyBESbswyBESbswyBESbswyBESbswyBESbswyBESbswyBESbswyBESbswyBESbswyBESbswyBESbswyBESbswyBESbswyBESbswyBESbswyBESbswyBESbswyBESbswyBESbswyBESbswyBESbswyBESbswyBESbswyBESbswyBESbswyBESbswyBESbswyBESbswyBESbswyBESbswyBESbswyBESbswyBESbswyBESbswyBESbswyBESbswyBESbswy