Live @ the Green feat. Babba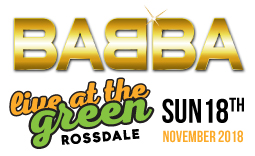 Description
Rossdale Golf Club presents Live @ The Green.
SUNDAY, November 18th.
Featuring the best from the 70's and all things disco, so get your groove on and come and enjoy the fun with live entertainment ALL DAY from 4pm.
Starting off at 4.00pm with The Magical Marmalade Machine and then headlined by Babba - a tribute to Abba.
Gates open at 3.00pm.
Children's entertainment, food & drinks available for purchase*.

Venue
Rossdale Golf Club
Sixth Avenue
Aspendale, VIC 3195
Contact Details:
Rossdale Golf Club
Sixth Avenue, Aspendale, Victoria 3195
Ph: 9580 1008
E: rgc.events@rossdalegolf.com.au