ONLINE SALES FOR THIS EVENT ARE NOW CLOSED. BOX OFFICE OPENS 1:30. TICKETS STILL AVAILABLE.
Boîte Millennium Chorus: Mission Songs Project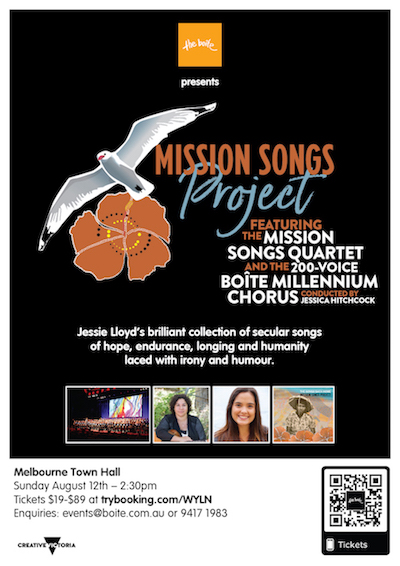 The Boîte presents Mission Songs Project, featuring the 200-voice Boite Millennium Chorus who will perform Jessie Lloyd's brilliant collection of secular songs of endurance, longing, humour and humanity. Conducted by Jessica Hitchcock.
The Boite Millennium Chorus is an unauditioned choir with a reputation for producing outstanding concerts, exploring and celebrating Australia's rapidly changing cultural landscape.
Searching for the secular songs that were sung after church, Mission Songs Project faithfully explores the musical journey of Indigenous Australian music and connects the traditional with contemporary, revealing the continuation of cultural practice and song tradition into the 21st century.
The repertoire will feature tunes from the Mission Songs Project debut album 'The Songs Back Home' and the upcoming second album 'Oh PI' a revival and celebration of the old songs sung on Palm Island Aboriginal Settlement in North Queensland.
Location
Melbourne Town Hall
Cnr Swanston & Collins St, Melbourne Victoria 3000