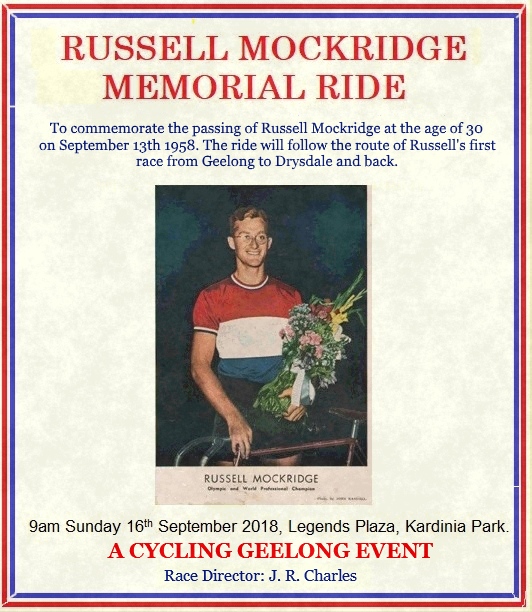 A bicycle ride from Geelong to Drysdale and back to remember a great champion cyclist who was killed while racing 60 years ago. Starting from the testimonial plaque to Mockridge in the Legends Plaza next to the stadium at
Kardinia Park, the ride will take the Bellarine Rail Trail out to Drysdale to allow for a relaxed, social ride. We will break in Drysdale for coffee and to hear some personal memories from friends and family. The return leg has the option of taking the road route back down the hill to the Elephant and Castle Hotel in Geelong where Russell's first race started and finished.
To make a weekend of it, there is a ride on Saturday 15th September leaving at
9:00 am from Balyang Sanctuary Car Park, Marnock Road, Newtown
taking in some of Geelong's places of interest with a particular focus on those with a Mockridge and cycle racing connection. There is also a forum discussion at the Russell Mockridge Pavilion, No 1 Barwon Heads Road Geelong on Saturday night from 6-7.30pm with light refreshments supplied. This will be the chance to hear from recent authors who have contributed to the Mockridge story as well as from those with personal recollections. Please indicate if you are interested in either of these Saturday activities when you book using the Book Now button.