EXERCISE STONE PILLOW 2018
COMMUNITY CHARITY SLEEP-OUT FOR HOMELESS VETERANS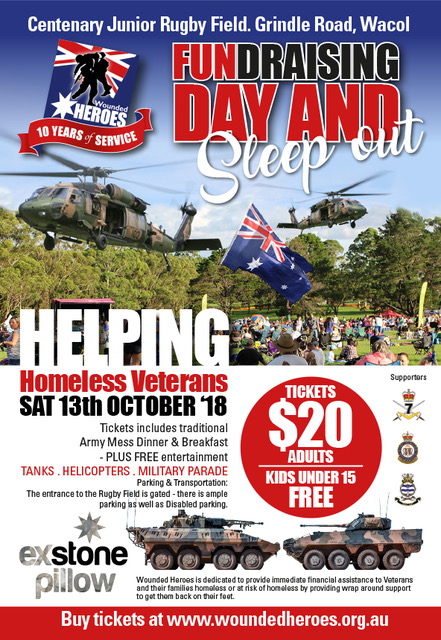 Description
EXSP18 will be held at Wacol, Brisbane on 13th October 2018. In our 7th Year, we are raising awareness & fundraising for Homeless Veterans and their families and Veteran Families at risk of homelessness in SEQ. A Family Event with your booking fee 100% used to support our cause.
The day includes a huge military display from Army/Airforce/Navy - heaps of kids activities. A sunset memorial service is a must see, followed by a traditional Army Mess dinner & breakfast*. Monster raffle, with over $10,000 in prizes. Special Guest Speakers. Join us at our new home at Wacol.
Live music all day, including the Army Band. This is an Alcohol Free Event.
*Conditions Apply
Venue
On 13th October 2018, Exercise Stone Pillow (ExSP) is being held at:
Centenary Junior Rugby Field; Grindle Road, Wacol, QLD.
A new venue, where Wounded Heroes runs it's Equine Healing Program
Contact Details:
Sue Luxford sue@woundedheroes.org.au
M: 0456 651717
https://www.facebook.com/WoundedHeroesAustralia/
www.woundedheroes.org.au