FRED SMITH - DUST OF URUZGAN - BURRA SA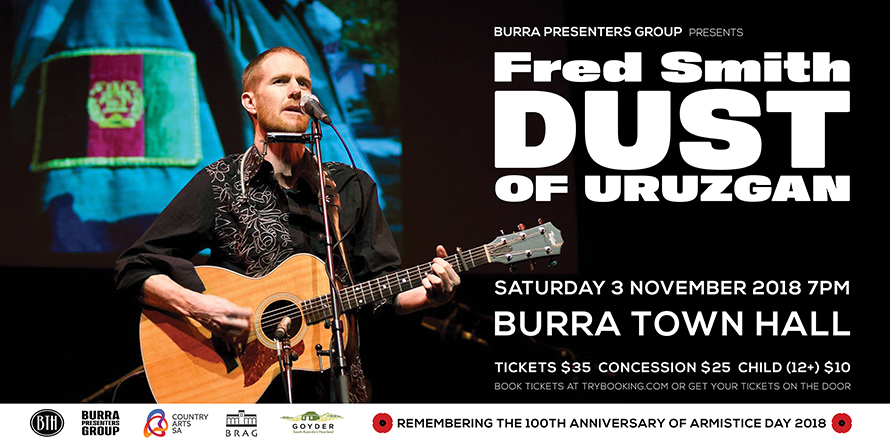 Remembering the 100th Anniversary of Armistice Day 2018
Fred Smith is no ordinary singer-songwriter...
and this is no ordinary show...
Dust of Uruzgan is a collection of songs Fred wrote while working as a diplomat alongside Australian soldiers in Uruzgan Province, southern Afghanistan. The show combines songs, humour, and commentary with a stunning set of images from military and civilian photographers.
Fred is a true raconteur; a masterful and entertaining storyteller, who has been compared to great Australian songwriters, Eric Bogle, John Schumann and Don Walker. His songs are stories put to well-crafted music; telling the real life experiences of some 20,000 Australian soldiers who served in Afghanistan.
Fred's experiences in Uruzgan are also the subject of an Australian Story feature, a critically acclaimed album and book The Dust of Uruzgan published by Allen and Unwin. In the live show you will be transported to Afghanistan, to the experience of life as a soldier: the dust, the heat, the frustration, the fighting and the camaraderie.
On Saturday 3 November 2018 at 7:00pm
The show is 2.5 hours including a 20 minute interval
Location
Burra Town Hall
4 Market Street, Burra South Australia 5417
Contact Details
Denise Officer 0411 749 473‬