Movement for Mia Thermomix TM5 Raffle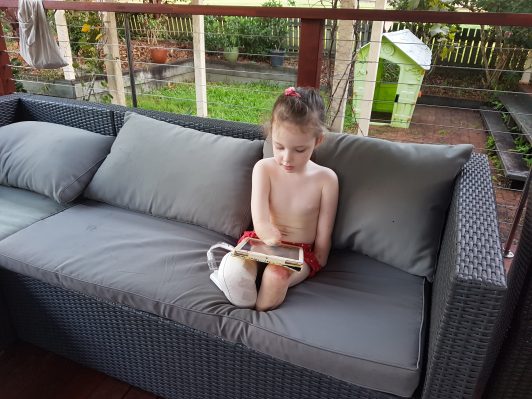 Mia was like most bubbly four-year-old girls. Her contagious smile and cheeky giggle bounced around her suburban Brisbane home. Mia loved the things that most little girls cherish - swimming, gymnastics, drawing, painting, playing with her big sister and little brother and was proud to have just learnt to ride a bike.
Mia's life change on Friday afternoon in October 2017.
That vibrant little girl complained of a sore tummy. Within hours, Mia was vomiting. On Saturday morning Mia was diagnosed with a gastro bug. My Saturday afternoon Mia was at the hospital where she was diagnosed with Influenza B and Viral Myositis. By Sunday afternoon, brave caring Mia was fighting for her life, Her heart stopped, she was revived by the paediatric intensive care team. Mia's life was a minute by minute proposition. Over the next six days, Mia fought her way back from death.
But some damage was permanent. Mia's parents had to tell their little brave girl that her arms would be amputated below the elbows and that both legs would be amputated below the knees. Mia asked why. She was told her hands and feet were sick and that they would make her sick again. Mia cried, so did her parents, Mia asked if she would get new hands. She was told her new hands would help her do things but they would not be the same as the old hands. That was the first step into Mia's new life journey.
Mia has regained that smile and infectious giggle, becoming brilliant at drawing, playing with her dolls and using her iPad. She's a resilient little girl but there's a long journey left for Mia.
Today, we need your help to shape a strong future for Mia.
This fundraiser will go towards the Mia Wilkinson Trust, and will help Mia's with her expensive prosthetics, lifelong medical treatments, house modifications, car modifications and necessary equipment.
It will help Mia to achieve her goals and by purchasing a ticket you will help give Mia the hands she needs to paint, the legs she needs to be able to run at the park and the care she needs to thrive.
For more of Mia's story www.movementformia.org
Tickets are $30 each or 2 for $50.
Only 750 tickets available, and for every 250 tickets sold, there will be one Thermomix drawn. So if we sell out, there will be 3 winners!