A Journey Inside Your Brain Couples Exclusive (SOLD OUT)
[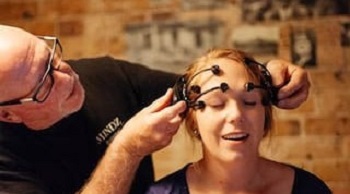 ]
Educational, entertaining and more fun than your brain can handle!
This experience is only for a couple.
You'll use fully safe EEGs to look inside your brain at your neuron activity. Move objects on a screen using your thoughts & see how well you go into a 'theta' (memory & meditation) state. You'll also see how similar or different your brains are! The only experience like it in the world. Amazing, educational & exclusive to the Illawarra. Includes a glass of wine, coffee, beer or soft drink.
Location
The Ryans Hotel (The Red Room in the Upper Deck)
138 Phillip St, , Thirroul NSW 2515
Contact Details