Be Merry Annual Christmas Brekky (SOLD OUT)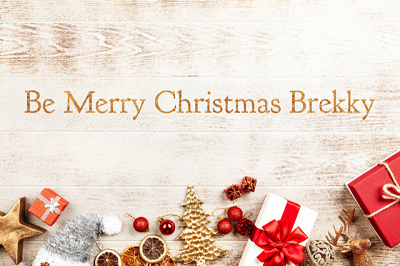 The Yarra Valley Busines Annual Christmas Brekky is on again to celebrate another year with all the amazing businesses throughout the Yarra Valley.
Our brekky will kick off with the draw of lucky door prizes and a special visit with Santa. Guests will be welcomed by the Chair of Yarra Valley Business Jason Olszewski followed by breakfast while you enjoy hearing from very special guest speakers including Paul Dunn and Peter Lusk.
Yarra Valley Business wants to help you grow your business, we aim to help you connect, grow and thrive. So be sure to come along so you can connect with likeminded business owners, network & establish new contacts, celebrate with fellow members in business, build knowledge and inspiration through our renowned special guest speakers, and get into the festive spirit during the silly season.
ABOUT PAUL DUNN
Paul is renowned for his inspiration and motivational speaking. He helps businesses unleash the huge power of small and how to build an amazing business in amazing times. He is a 4 x TEDx speaker, award-winning entrepreneur, and master presenter. He lights up businesses and lives right around the world. He'll light up and inspire you too as you really 'get', the impact of the stunning insights he shares with you during his in depth speech at this business brekky event.
Paul has received numerous honours for his work and is the recipient of a Global Lifetime Achievement Award for his Service to the Accounting Profession (even though he's not an Accountant!)
He's a Senior Fellow of one of the world's leading business think-tanks and is now a Fellow of Singapore's Social Innovation Forum – an honour he shares with film-star Jet Li and Walmart Chairman, Rob Walton. His work as Chairman of the revolutionary B1G1, which is an organisation that changes lives through businesses doing 'good' has been featured in leading-edge publications such as Forbes, Fast Company, Trendwatching, Springwise and online through the key technology newsletter Mashable, as well as Voice of America.
Paul is hugely respected around the world, an admired business leader and truely an inspiration to everyone in business. He is an expert at building up everyone around him and celebrating everyones achievements, big or small.There's just no one that does it like him.
So if you are looking for some inspiration to move your business forward then don't miss this segment!
ABOUT PETER LUSK
Peter is the General Manager of Southern Cross Kids Camps which is a unique organisation dedicated to helping children who have been subjected to abuse, neglect or domestic violence. Their programs are designed to bring fun and laughter back into the lives of children whose everyday existence is less than ideal and give a week of happy memories to kids who've been abused or neglected.
Hear all about Southern Cross Kids, How Peter operates and manages this large organisation that gives back to so many children in need and be inspired by how they have established business growth.
Book your ticket to be part of what will be an amazing morning filled with inspiration, friendship and festive fun.
Location
Eastern Golf Club
215 Victoria Rd , Yering VIC
Contact Details