4th International Classical Chamber Series 2019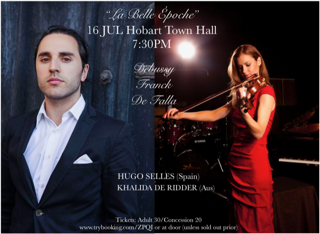 Hugo Selles (SP) and Khalida De Ridder (AUS) at Hobart Town Hall TAS 16th July 2019 at 7:30pm.

Trio Cavallaro regional tour in QLD and NSW featuring Australian-Italian soprano Petah Cavallaro-Chapman, Danish classical guitarist Simon Thielke, and violinist Khalida De Ridder. 27th March - 7th April.
Location
Hobart Town Hall
TAS