WIRED OPEN LABS 2019: SHROUD MAKING

The WIRED Lab WELCOMES HELEN DUNNE FROM SHROUD MEMENTO
AS PART OF THE WIRED OPEN LABS WORKSHOP SERIES 2019

IN THIS FULL DAY WORKSHOP YOU WILL LEARN:

What a shroud is and how it can be used;
Various shroud decoration methods most be tting the recipient; and
The range of creative approaches to making a shroud.
Who Should Attend?
Introductory class, suitable for beginners.
What You'll GET
By the end of the workshop participants will feel confident about commencing the decorating of a shroud and inviting family, relatives and friends to join them if they so wish. They will have a range of methods to use to apply to their ideas for decoration appropriate for the recipient of the shroud. Whilst it is possible to complete a simply designed shroud in the workshop time, usually a start is made and participants will then have time to consider what they would choose to decorate a shroud with the methods they have learnt in their home.
Lunch, snacks and refreshments will be provided throughout the day.
What To Bring?
Some materials provided, including sample cloth (approximately 30 x 30 cm) for each person to test various methods, and some thread.
Participants are asked to bring things familiar to them from home such as a loved one's old clothing, perhaps material they wish to use for a shroud or any other items that the intuitively feel could be incorporated.
Participants will be contacted prior to the workshop to determine what materials are best suited for their context.
DATE & TIME
Saturday 3 August, 2019
10:00am - 4:00pm
Location
Jugiong Memorial Hall
299 Riverside Drive
Jugiong NSW 2726
cOST
$350 per ticket (GST inc)
15 places available
Payment plans are now available for those wishing to purchase tickets this way.
For more information please email anna@wiredlab.org
CREATIVE KIDS - NSW GOVT $100 VOUCHERS
The Wired Lab is a registered provider of the NSW Government 'Creative Kids' Program, which entitles parents and carers of young people (18 years and under) to a $100 voucher towards creative activities. These vouchers will be active from 1st January 2019, and one voucher per child is available on an annual basis.
Most of our workshops are accessible to mature teens or children accompanied by an adult.
Parents and guardians of participants under 18 should contact us directly before enrolling.
To claim your voucher the parent/guardian needs to establish a Service NSW account and apply for a Creative Kids Voucher
Once your voucher is issued contact us to reserve your child's place in a workshop.
Please provide the child's full name, date of birth and the voucher number.
If the workshop place is more than $100, we will invoice you for the balance of the fee.
ACCESSIBILITY
This venue is wheelchair accessible.
The Wired Open Labs workshops are presented in a range of venues where varying access needs can be met.
We have endeavoured to make our workshops as accessible as possible.
Please contact us with any other specific access needs before purchasing a ticket to ensure we meet your requirements.
'STAY & PLAY' PARTNERSHIP WITH THE SIR GEORGE JUGIONG - 10% DISCOUNT
The Sir George recently built an artisan bakery and luxury accommodation units within their historic stables precinct. Both are testament to respecting our heritage while incorporating the new. Upon registering a booking in July for a workshop based in Jugiong, The Wired Lab will email you a 'stay and play' 10% discount code valid until the end of the month, which you can use to book accommodation at The Sir George.
Contact Details
Anna Schoo | The WIRED Lab | anna@wiredlab.org
---------------
ABOUT HELEN DUNNE, SHROUD MEMENTO
When my father died, my mother was asked how she wanted him dressed for burial. As there were no suitable clothes available for him an idea came to me to instead use a beautiful covering cloth, a shroud. I constructed a cloth that lay on the dining table for us to sit down and add to, whenever we felt the need. It felt good to share our memories of him, and this experience created the spark that has evolved to be Shroud Memento. As the sole operator of the service, I consult, demonstrate and guide you. I hold qualifications in stained glass, ceramics, painting and drawing, pattern-making and sewing, print making, silversmithing, and more. I have had a career in the arts, and it is the combination of my experience, community mindedness, and artistic skill that form Shroud Memento.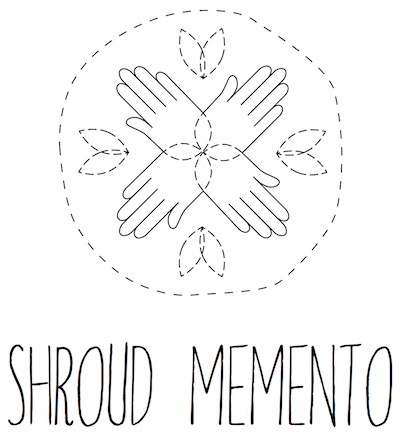 ---------------
This project is assisted by the Australian Government through the Australia Council, its arts funding and advisory body.

The Wired Lab is supported by the NSW Government through Create NSW.