HOW TO SUCCEED IN BUSINESS
MLOC PRODUCTIONS IS HOLDING AUDITIONS FOR THE FOLLOWING ROLES:
J.B. Biggley
Bud Frump
Bert Bratt
Mr Twimble
Wally Wamper
Milt Gatch
Benjamin Burton Daniel Ovington
Please download the Audition Info Pack for details about each role
AUDITIONS NOW OPEN


for MLOC Productions May 2019 production of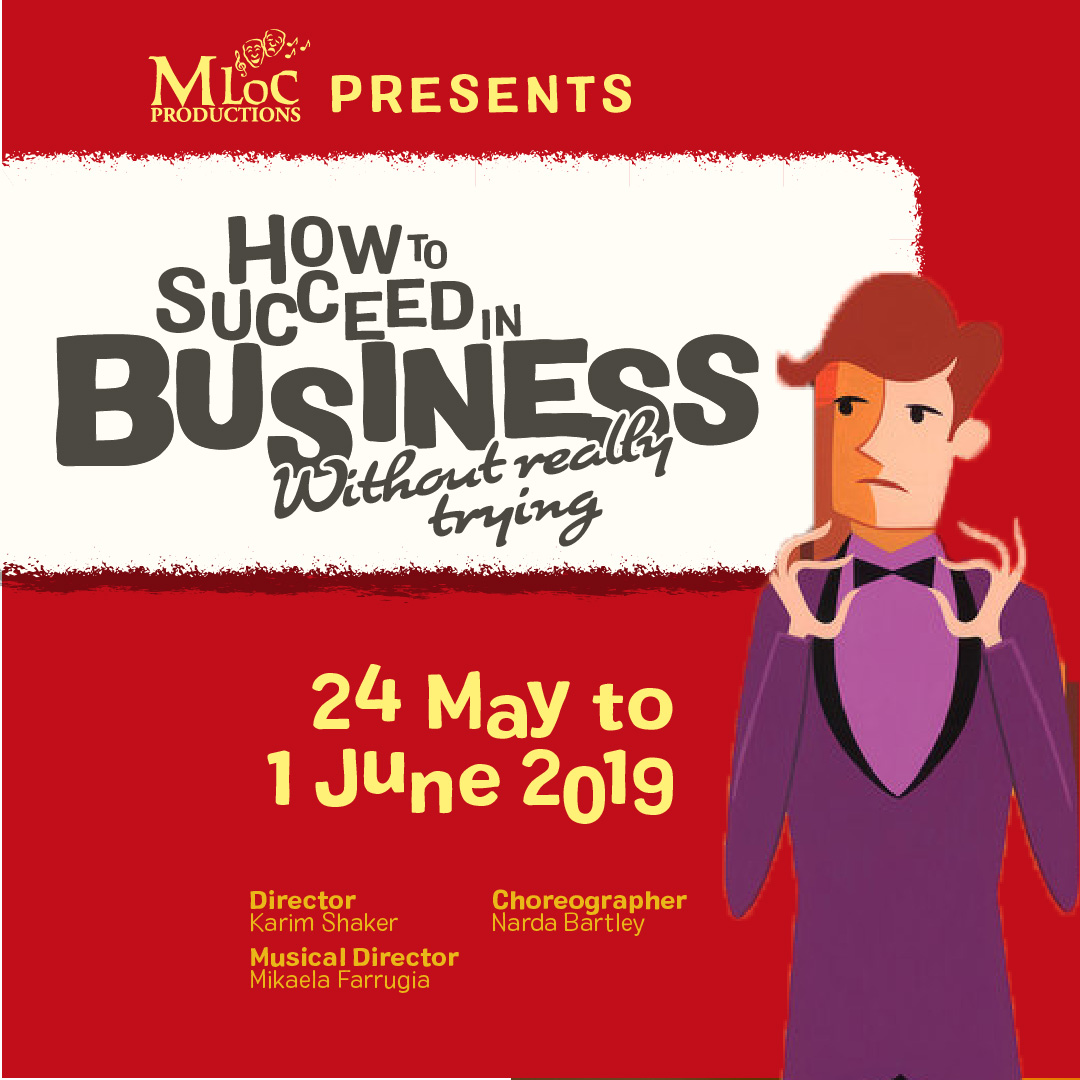 Auditions 29 January 2019
Performance Dates: 24th May to 1st June 2019
How to Succeed in Business Without Really Trying is a story about the triumph of the common man amid the buffoonery of big business. When a restless, creative, and ambitious window washer named J. Pierrepont Finch happens upon a book entitled 'How to Succeed in Business Without Really Trying', he decides to begin his rise the corporate ladder.
With the book's instructions and a dose of his own cleverness, Finch starts by landing a job in the mailroom at the World-Wide Wicket Company, before quickly gaining promotions and outsmarting his scheming, snivelling rival, Frump - who also happens to be the boss's nephew-- until finally reaching the very top of the organization. From the very beginning, Finch has had the love and support of Rosemary, a marriage-minded secretary who recognizes Finch's potential, and finds his innocent demeanour endearing. But in his single-minded pursuit of the top job, Finch is in danger of discounting Rosemary's love. In a moment of crisis, Finch's manual to success can no longer help him: he must rely on his own wits, and ultimately, his heart, to save the day.
Director: Karim Shaker
Musical Director: Mikaela Farrugia
Choreographer: Narada Bartley

Ensure you download the full info pack and audition form from these links
If you have any questions regarding the auditions, please contact our Audition Coordinator at auditions@mloc.org.au
AUDITION DETAILS
Singing & Acting auditions (individual closed auditions) will be held on Tuesday 29 January 2019 from 8pm at the
Parkdale Church of Christ, 176 Como Parade West, Parkdale
NOTE: for those attending auditions, if you need to get in touch with us for any reason, on the day of your audition, please call our Production Manager, Andrew on 0468 993 903