Nanga Music Festival Tickets

Pandemic Policy
Under pandemic rules, capacity limits for venues without fixed seating, including Nanga Bush Camo, have varied between 4 Square metres per person, 2 square metres per person, and 100% legal capacity. The rules vary depending on how far out of lockdown we are.
Everyone holding a ticket will get in if the rules allow 100% capacity on 8 October.
Tickets purchased after 26 July will be refunded if the rules on 8 October limit capacity to 2 sq metres per person.
All tickets will be refunded if the rules require more than 2 sq metres per person at 8 October.
In the unlikely event that lockdown occurs while the festival is already underway, those holding valid tickets when the festival opened will not be refunded. (So for instance, if the festival went into lockdown on Saturday morning, attendees would not get a refund.)
Questions? please email info@nangamusic.org.au
Tickets and Accommodation
Important information
Over the last few years the festival has sold out before the closing date for ticket sales. In order to avoid disappointment we recommend that you book early. Early Bird ticket sales open on July 18 and close on July 25; full price tickets are subject to availability after this date.
Ordering meals
This page covers ticket and accommodation bookings only. Meals are ordered by either:
Menu details are displayed on the Nanga website.
Meal bookings will close on Friday 1 October.
Festival Ticket Options
Adult ticket with on-site accommodation $257 *
Child 0-12 years with on-site accommodation $63
Youth 13-18 years with on-site accommodation $157*
Adult ticket with no on-site accommodation $220*
Youth 13-18 years with no on-site accommodation $89.50
Child with no on-site accommodation: free entry
Friday evening adult $65
Sunday evening adult $27
Saturday day tickets $131 **
*A $15 early bird discount will apply.
**Day tickets will be on sale closer to the festival if available.
Children must be under 12 at the time of the festival. Children accompanied by a supervising adult have free entry to the festival.
Choosing Accommodation
The choices of on-site accommodation at Nanga are:
Bunkhouse lodges
Tent campsite
Camper van, camper trailer or caravan site.
NOTE: Trailers, campervans and caravans are limited to 6 metres length. Vehicles exceeding 6 metres will be denied entry
1. Bunkhouse Lodges
There are three bunkhouse lodges, each having a different curfew to cater to different lifestyles.
Currawong – No curfew, self catering available
Timbarra – 1:30am curfew, self catering available
Woodshed – 11pm curfew, no self catering at Woodshed; cooking facilities available at Currawong, Timbarra and the Roundhouse BBQ.
To book bunkhouse lodge accommodation you must choose beds for your party. The plan of the building identifies the bed numbers so that you can know exactly where you will be sleeping. The bed number you select will determine whether you have an upper or lower bunk so please select carefully!
Selecting a room
After selecting a specific bunkhouse, you will be taken to a page showing the floor plan of the selected building. The Row Number identifies the room. For example Room 1 shown on the floor plan is called Row number R_1.
Selecting a bed
The Seat Number indicates the specific bunk bed you are booking in the particular room. The floor plan identifies top and bottom bunk positions. In a typical 4 bed room beds 1 and 4 are top bunks and 2 and 3 the bottom bunks. We ask that if you are a couple you select beds in the same bunk to make it easier to share the room with other patrons.
Selecting the right type of room
We have allocated certain rooms to particular types of accommodation to ensure that you can select the company you keep. Please ensure that you select your bed in a room that has a designation appropriate to your circumstances.
The letter that comes after the seat number (W,M,C,F,G) designates the type of accommodation allocated to that room in accordance with the legend shown on the floor plan. The room types are:
W = women only
M = men only
C = couples
F = family
G = mixed groups
For example, if you are a single woman who does not want to share a room with any men you should select your bed in a room designated W. If you are a single man looking for accommodation in a room containing only other men select a room with the M designation. If you don't mind being in a mixed room you should select a room with a G designation for mixed Groups.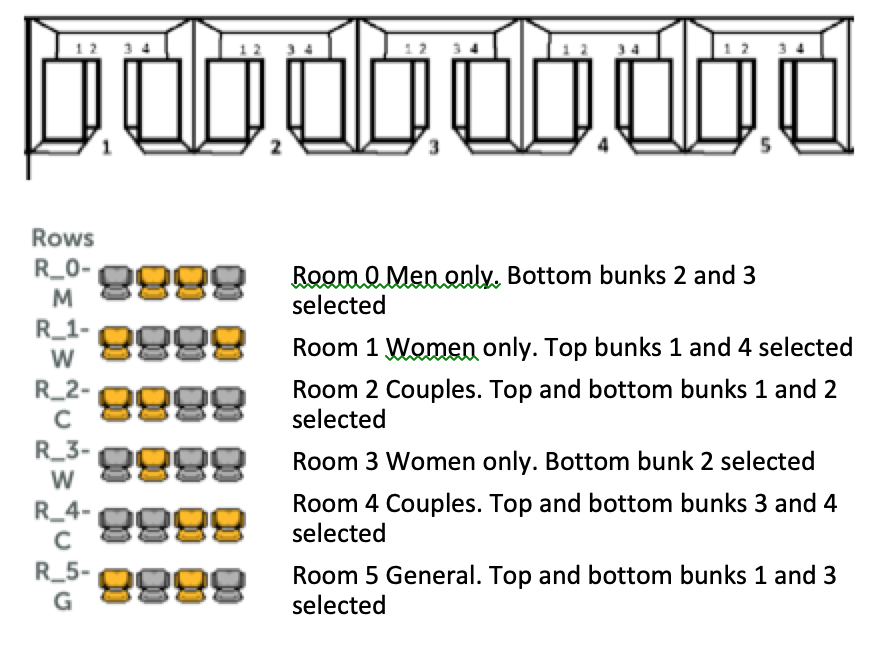 Making a Group, Family or Couples Booking
If a group (G), family (F) or couple (C) are attending together, we strongly advise that one person makes the multiple bookings on behalf of the group to ensure you are all sleeping in the same room or area.
If you have any mobility issues that would impact on your ability to get upstairs please call Andrew Heard on 0408 928 194 to arrange accommodation suitable to your specific needs.
2. Camping - Tents
Camping sites are limited so please book early. Camping is either in the Hermitage area or close to the Woodshed bunkhouse.
3. Camper Trailers, Campervans and Caravans
Camper trailers, campervans and caravans are allowed on site but sites are limited to so please book early. Due to the narrow tracks and difficult terrain situations caravans are limited to the Woodshed area. All sites are unpowered.
Beside Timbarra bunkhouse: 6 unpowered caravan sites and 5 unpowered camper trailer sites
Beside the Woodshed Listening Gallery: 6 unpowered camper trailer sites.
NOTE: Trailers, campervans and caravans are limited to 6 metres length. Vehicles of excessive size will be denied entry. Trailers and caravans must be decoupled from their towing vehicle when parked.
If onsite places are fully booked, caravan sites are available in Dwellingup or at Lane Poole Reserve.
Contact
Should you have any queries please contact Andrew Heard on 0408 928 194 or bookings@nangamusic.org.au