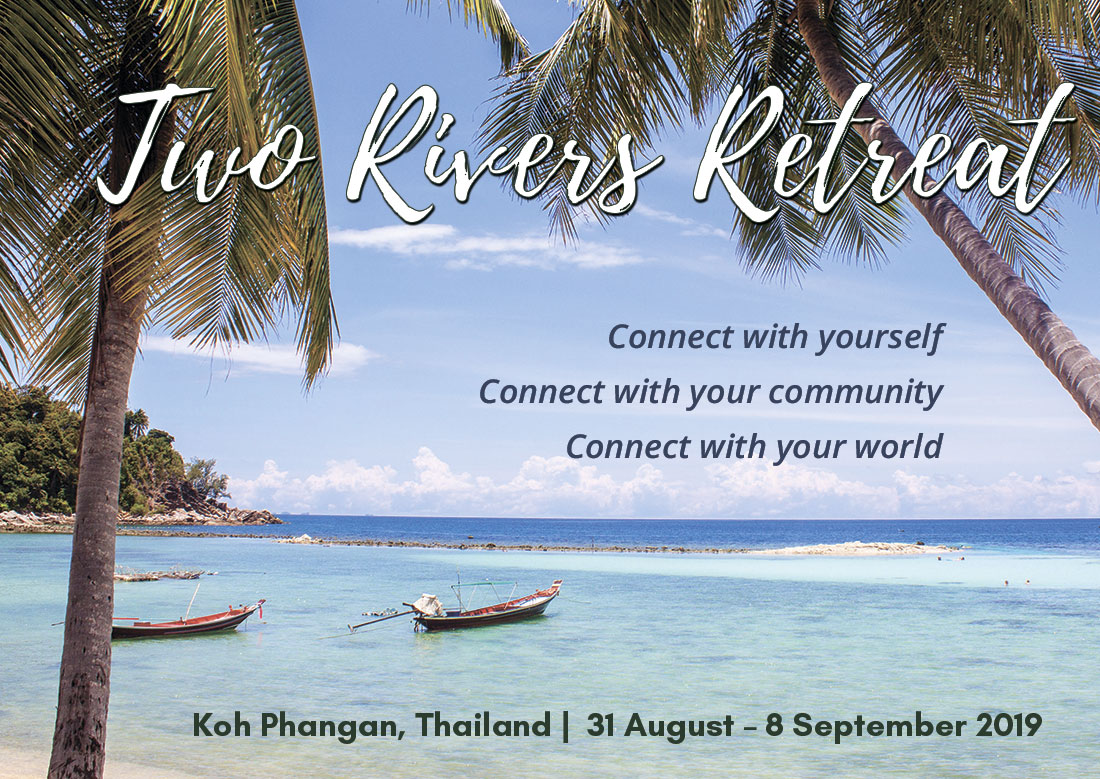 Two Rivers Retreat
Koh Phangan, Thailand
Connect with yourself. Connect with your community. Connect with your world.
A week-long mindfulness and wellness retreat on a beautiful island of Koh Phangan, Thailand, by experienced psychologists and experts in mindfulness, 31 August – 8 September 2019.
Do you find you always have too much on your mind?
Are you critical towards yourself?
Do you find it is hard to relax and be present?
Do you want more satisfaction from life?
Do you want to learn valuable skills while nourishing your body and mind?
If you answered yes to any of the above questions, this retreat is for you.
With only one retreat a year, this is your chance to do something for yourself. Take time off to focus on improving your quality of life and to slow down, build your resilience and connect with yourself. You will also learn powerful tools that will help you focus, be more self-aware and improve your life long after the retreat has ended.
Everything at the retreat is taken care of, so all you need is to book a place and show up, and we will look after you! Plus, with two experienced facilitators, you know we've got your back.
What you will get
When you give yourself what you deserve and invest in yourself away from your day-to-day life, you can make sustainable changes to your wellbeing. Give yourself a gift that will stay with you for the rest of your life.
Our retreats are a fun, practical exploration of the powerful skills of mindfulness and self-compassion. Run by experienced clinical psychologists, you will learn a number of powerful tools as well as deepening your self-awareness and clarity around what is really important in life.
You will also get to slow down and relax, improve your physical health through healthy eating, meditation and yoga, and perhaps most importantly, form genuine connections with awesome like-minded people from around the world.
As well as relaxing and being pampered, you will learn simple, evidence-based tools to help you:
Manage stress better

Relate to difficult thoughts and emotions in a healthier way

Be kinder and more compassionate toward yourself

Respond effectively to life's challenges (rather than reacting in unhelpful ways)

Establish a sustainable daily mindfulness practice

Increase your self-awareness and learn how to let this guide your choices and goal-setting

Be more present with yourself and others

Develop emotional resilience and balance

Improve concentration and focus
According to recent studies, mindfulness and self-compassion can help reduce symptoms of depression and anxiety, and improve emotional well-being, relationships, and self-care.
Package highlights:
Green and peaceful location on the island of Koh Phangan, Thailand, booked exclusively for our group
8 nights 7 days deluxe eco-resort accommodation at Yoga House or nearby accommodation (private rooms, twin share and luxury 4-share options available)
Carefully curated program based on mindfulness, mindful self-compassion, and Acceptance and Commitment Therapy principles
Workbook to help you take what you learn back into your everyday life
Two experienced facilitators, both of whom are experienced clinical psychologists
Small group size [around 20 people] providing community, connection, and a personalised approach for each attendee
Healthy and delicious meals each day, including local Thai dishes and pan-Asian flavours.
Gentle yoga sessions every morning
Mindful cooking class exploring local cuisine
Mindful nature walk
1 hour Thai massage
We can also help you to organize transfers (for additional cost)
Program
Based on neuroscience and the latest research, we have carefully curated a program combining mindfulness and self-compassion practices, as well as powerful tools from Acceptance and Commitment Therapy.
The program is interactive and engaging. It includes discussion of basic concepts, lots of practical exercises and an opportunity to practice mindful communication so we can share experiences and learn from one another.
Timetable:
7-8am Yoga (optional – but highly recommended!)
8-9.30am Breakfast
9.30-10.45am Course
10.45 -11am Morning tea
11am-12.30pm Course
12.30-1.30pm Lunch
1.30-2.45pm Course
2.45-3pm Afternoon tea
3-6.30pm Free time (and other activities e.g. mindful cooking class)
6:30pm Dinner
Location
Our wonderful hosts at Yoga House have been making their luxurious amenities available for healing retreats and escapes for many years. We are lucky to have the entire place to ourselves for our 7-day retreat.
With its natural surrounding and intimate setting, Yoga House is a perfect place for a wide range of activities and workshops. At the same time it is ideal for relaxing, taking time out and experiencing Koh Phangan's wonderful island vibe.
Although private and secluded, Yoga House is only a few minutes from Koh Phangan's main beaches and the main town (with shops and conveniences).
Shared/private bedrooms are available with air conditioning, on a first-in basis. Choose from rooms at Yoga House or equally beautiful accommodation next door. Get in early to ensure you get the accommodation of your choice.
There is also an open lounge area with comfortable sofas and views of palm trees and the garden, and a beautiful swimming pool.
About us
As psychologists, we've spent years helping people grow, overcome challenges and unlock the joy within them. It's wonderful, rewarding work and it means a lot to us. We both also love travelling and have visited countries and connected with cultures from Mumbai to Rome. It's how we unlock the joy within ourselves! We have hosted Two Rivers Retreats in some of our favourite places on earth to unite these two joys and share an experience with people who want to connect, learn, and grow.
This year our retreat will be on a beautiful island of Koh Phangan, famous for its stunning beaches and peaceful calm atmosphere, only several hours' flight from Australia. Koh Phnagn is well-known as a place of spiritual pilgrimage, yoga schools and healthy living – as well as chilling out on beaches and enjoying sunsets. We couldn't think of a better place to relax, explore and connect!
Note: The (in)famous Koh Phangan full moon parties are held on a completely different part of the island – our serene location is FAR away from them!
Hi, I'm Alla!
Mindfulness and mindful self-compassion are at the core of my practices and techniques, both personally and professionally. Learning to 'live the now' is a simple and powerful principle that has changed so many lives, including my own. I know it can change yours too.
I really love working with groups. I have done so for many years in diverse settings. It's intimate, connected and so fulfilling for me personally. My own experience is backed up by scientific research: learning skills in a group setting can provide learning experiences much more powerful than what is possible in individual sessions. For one thing, it can be wonderful to hear from a group of strangers that they all experience the same challenges you do!
My experiences in Koh Phangan have been amongst the most joyful and satisfying in my life. Exploring the stunning beauty of the island, chatting with other travellers, enjoying yoga, healthy eating, and simply having fun – each of my visits to Koh Phangan is a pilgrimage I treasure.
So… you can see why I am so excited about this retreat!
Hi, I'm Richard!
Twenty years ago, I was depressed and really struggling at university when I stumbled upon mindfulness by chance. It completely changed my life. Within a really short time, I felt better, could concentrate more and started doing much better at uni. Mindfulness also helped me develop a kinder, more compassionate relationship with myself.
In the decades since, I have taught mindfulness and self-compassion to hundreds of thousands of people around the world. I love seeing how simple, practical tools can radically improve people's lives and relationships.
This is why I'm so excited about running the retreat – I look forward to taking you deeply into these practices and helping you transform your relationship with yourself, as well as giving you practical tools you can take back to your everyday life.
Hi, I'm Esther!
I am a Koh Phangan resident, where I practise and teach a variety of modalities, including reiki, yoga and bodywork.
I have been fortunate to live on this beautiful island for the last 5 years. It is a magical place for self growth and spirituality. The island has a special energy, which attracts many spiritual seekers and teachers. Apart from that, the island has an abundance of beaches, lush nature forests and mesmerizing sunsets.
I will be assisting you in your retreat with questions related to logistics and information about Koh Phangan. I will also be teaching you yin yoga classes and organising other exciting activities.
Contact details
info@insightpsychologycentre.com.au
*Exclusion Criteria
Please note that mental health facilities in Thailand are quite basic, so for your benefit and the benefit of other group members, this retreat is not suitable for those who:

Experience symptoms/behaviours so extreme that they could not benefit from the retreat (for example, acute psychosis, significant substance abuse, severe PTSD, depression and anxiety);

Are at high risk of self harm, suicide and/or harm to others;

Have difficulty functioning appropriately in a group setting;

Are suffering from poor cognitive functioning; or

Have difficulty understanding English (all retreats are offered in English).