SUITE LATINA Oliver Fartach-Naini – Classical Guitar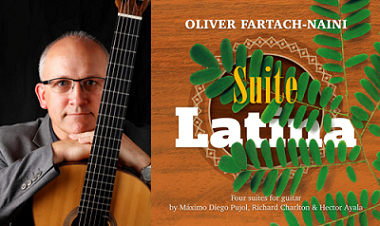 Sunday 12 May 2019, 12:00 p.m.
Concert at 12:00 noon followed by Degustation Lunch at 1:30 p.m.
Following CD release performances in Sydney, Melbourne and South Korea, internationally acclaimed guitarist Oliver Fartach-Naini returns to Kay Brothers for his first South Australian performance of his latest project. The concert's South American programme will feature music by Máximo Diego Pujol (Argentina), Hector Ayala (Argentina), Richard Charlton (Australia) and Antonio Lauro (Venezuela).
The new solo album titled Suite Latina received rave reviews with 5 star ratings by The Australian and ClassikON. US critic Blair Jackson writes in Classical Guitar Magazine: "This solo guitar release is a winner on every level, I can't recommend this beautifully played and very well-recorded disc highly enough!"
Enjoy this timeless and engaging musical journey, steeped in tradition at our heritage cellars on Mother's Day 12th of May 2019. Celebrate the day and indulge in a 3-course degustation lunch paired with our award winning wines.
Further info on the artist www.oliverfartachnaini.com
Tickets
Concert Only @ 12:00 p.m. - $35.00
Concert (12:00 p.m.) plus degustation lunch @ 1;30 p.m. with drink package - $110.00
Venue
Kay Brothers
57 Kays Road
McLaren Vale, SA 5171
Contact Details:
Michael Wehrs 08 8323 8201