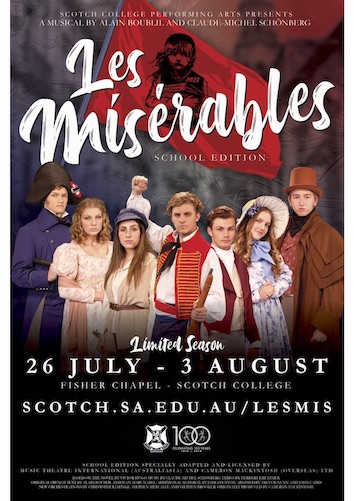 Scotch College Performing Arts Production of
LES MISÉRABLES SCHOOL EDITION
Performed entirely by students
A musical by ALAIN BOUBLIL and CLAUDE-MICHEL SCHÖNBERG
School Edition specially adapted and licensed by
MUSIC THEATRE INTERNATIONAL and CAMERON MACKINTOSH (OVERSEAS) LTD
Friday 26 July, 7pm (Paris Cast + G/YC 1)
Saturday 27 July, 7pm (London Cast + G/YC 2)
Sunday 28 July, 2pm (Paris Cast + G/YC 3)
Thursday 1 August, 7pm (London Cast + G/YC 1)
Friday 2 August, 7pm (Paris Cast + G/YC 2)
Saturday 3 August, 7pm (London Cast + G/YC 3)
Fisher Chapel (please enter via side doors, not the foyer)
Scotch College Adelaide
Carruth Road, Torrens Park
For enquiries contact the Performing Arts Secretary
Phone 8274 4210 or email performingarts@scotch.sa.edu.au
SPONSOR THE SCOTCH COLLEGE MUSICAL:
For more information about musical sponsorship packages, please download an information pack here.
The Chapel auditorium will be open for:
- Pre-show drinks and refreshments (wine, soft drinks, water, snacks) -
- Ticket sales -
from 6pm each night (2pm on Sunday).
Audience may take their seats approximately 15 minutes prior to the start of each performance.
All tickets are for reserved seating.
Paris Cast Lead Roles:
Jean Valjean - NED BAULDERSTONE
Javert - HUGH WHITTLE
Fantine - GEORGIA RAFTOPOULOS
Eponine - ELIZA FABBRO
Cosette - MILLIE BRAKE
Marius - HARRY MCGINTY
Enjolras - JACK RAFTOPOULOS
Thénardier - SEBASTIEN SKUBALA
Madame Thénardier - CHARLIE MILLER
London Cast Lead Roles:
Jean Valjean - HARRY FIEDLER
Javert - NICHOLAS BURT
Fantine - SOPHIA THOMPSON
Eponine - ISSIE MENNILLO
Cosette - ISSY DARWENT
Marius - ZAC SEELEY
Enjolras - WILL PETTERSON
Thénardier - JIM MARTIN
Madame Thénardier - LAURA WILLIAMS
Gavroche/Young Cosette (G/YC):
Gavroche 1 - OLIVER LAWES
Young Cosette 1 - TUILELAITH BAIRD
Gavroche 2 - LUCAS NUNN
Young Cosette 2 - ZARA WINDLE
Gavroche 3 - TOM SLEE
Young Cosette 3 - EMMA VENUS
**** Parental Advisory: this performance contains adult themes ****
To book your tickets, please select "BOOK NOW" at the top right hand side of this screen