Soul Quest Retreat
Bali - 2019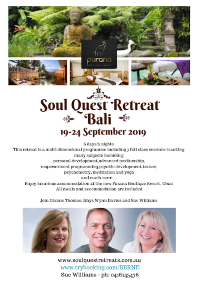 www.soulquestretreats.com.au
There is always a point in our lives where we need to take time out for ourselves. It can be when you are feeling burnt out at work, or you are going through an important life or relationship transition. You start to feel the call to make a positive change in your life, to let go of old energy, our past selves and embrace the part of us that wants to evolve towards increased happiness and peace.
​This retreat creates a safe and supportive space for your inner growth and transformation. Dive deep into your internal wisdom. Rediscover your strength and the connection to your highest self.The island's zen approach to wellness, informed by traditional Balinese and Hindu customs, makes a visit to the island a powerful catalyst for positive change in your life.
With Indonesia being the birthplace of tempeh, the cuisine of the islands is known for being good-for-you and incredibly delicious. Balinese cuisine is characterized by the use of locally available veggies and aromatic spices. Whether you're into organic, vegan or raw food, Bali has many tasty somethings that will hit the spot. During a luxury escape to Bali, you should expect to dine on the finest ingredients.
​Seeing new places creates an opportunity to see the world and yourself in a new light. Experiencing the unknown is an accelerated way to learn and eventually grow into the best possible you.
Imagine spending a luxurious 5 nights and 6 days learning to understand and fine tune skills you have and those you didn't know you had in all areas of spirituality and mediumship - and learn how best to incorporate these into your everyday journey- all with like minded souls in a safe and nurturing environment.

This fabulous retreat offers a very affordable , all inclusive retreat coupled with massage, traditional Balinese healing and Sound Meditation at the Pyramids of Chi.

Soul Quest is designed for you to discover and transform your life by bringing a greater awareness of self, your own gifts and a deeper knowing and connection to your soul and its journey.

Three renowned tutors with over 30 years experience will provide six days of workshops, classes and integration time to assist you in honing your skills, defining your truest abilities and give you tools to expand your Soul's purpose, mediumship and psychic abilities.
Rhys Wynn Davies
Born with Celtic ancestry Rhys Wynn Davies is a Psychic Medium and is sensitive to spirit energy and presence. Rhys can channel communication between the physical world and the spiritual world. Rhys has clairsentient, clairvoyant and clairaudient abilities which assist him to sense, see and hear messages. .Rhys teaches many aspects of Spiritualism, mediumship and intuitive development. Trained at the Arthur Findlay college, Rhys is an internationally renowned dynamic teacher and encourages his students to achieve their own potential in a safe, fun and relaxed atmosphere.

Dianne Thomas
Dianne has the gentlest soul and nature. With complete integrity and empathy she brings a wealth of knowledge and incredible talent both in mediumship and psychic modalities. Dianne is an excellent facilitator of self development classes and meditation, giving her students a safe and secure environment. Studying under the mentorship of International medium, Tony Stockwell, Dianne is ever learning and always bringing the latest concepts of teaching and understanding to her students.
Sue Williams
Sue is the successful founder of Abitza and Soul Quest Retreats, both the result of creating space to bring like-minded people together.Sue is committed in assisting you to create your life that will bring you into line with your Soul's purpose. Creating a life of joy, peace, good health and wealth. Using over 30 years of experience, Sue uses a proven transformational technique – empowerment programming, involving personal and business mentoring, visualisation, meditation, energy healing, business know-how and tools, to assist you to reach your goals both in business and personally.

This retreat is a multi dimensional programme including 7 full class sessions teaching many subjects including:
personal development,
mediumship,
empowerment programming,
psychic development,
trance,
psychometry,
Meditation and yoga
and more....
Begin each day with a meditation, yoga session or walk in the rice fields, before a day of activities and learning.

Breakfast, lunch, afternoon tea and dinner will be provided.

The focus of this amazing retreat will be your own Soul's Journey, in a luxurious and nurturing environment.
19th to 24th September 2019
Location
Purana Ubud Boutique Resort
Ubud - Gianyar - Bali
Banjar Kumbuh, Desa Mas, Ubud, Gianyar – Bali 80571
Phone. +62 361 9081521
HP. 082 237 758 498
Contact Details