LOST TRADES FAIR ~ Hawkesbury ~ 5 & 6 October 2019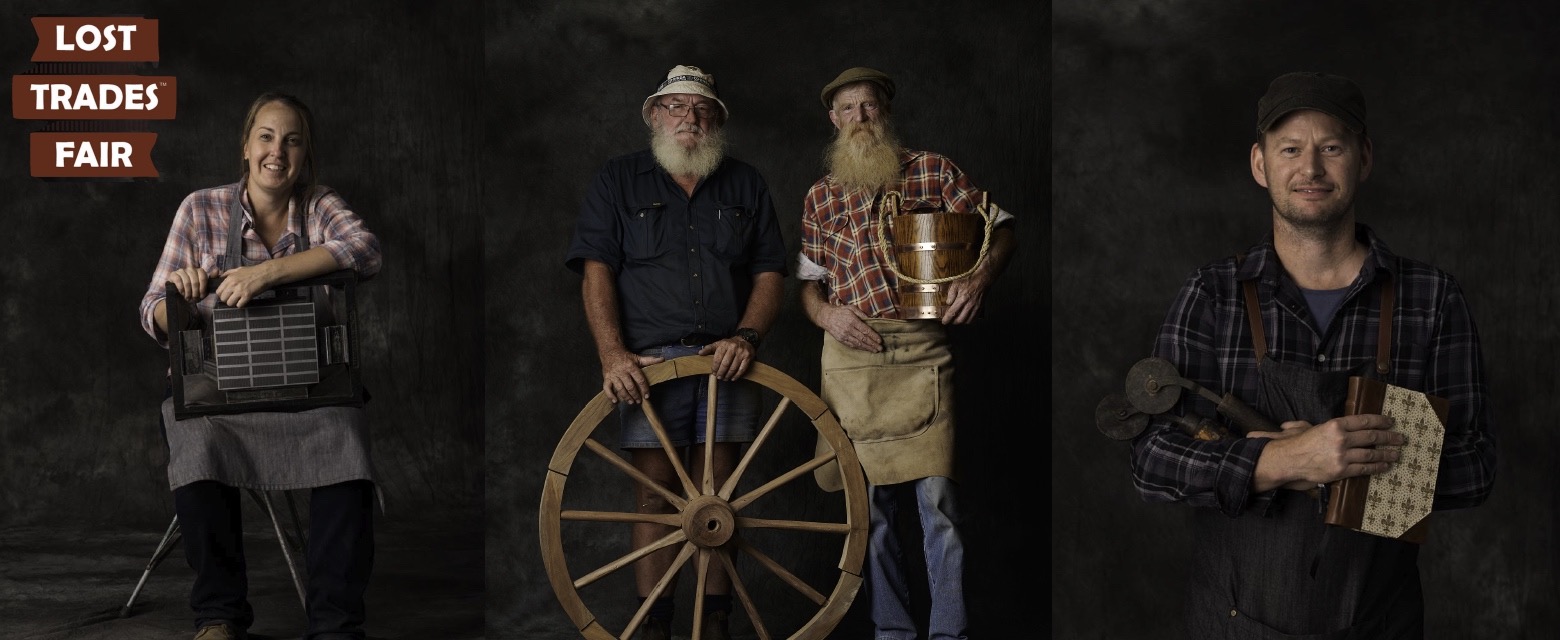 Craftsmanship, skill, tradition, forgotten arts and rare trades. Find authenticity, meet the makers - if you love bespoke, handcrafted, artisan trades and skills - do not miss this event. Incredible makers practising their trades; coopers & carriage builders, silversmiths & stonemasons, glass blowers & candle makers. Meet the makers at the biggest gathering of traditional tradesmen and women in the country. Be inspired by the 'art of handmade' at the Lost Trades Fair.
You can print your ticket or just have it saved it to your phone or device to scan in at the gate.
TICKETS + PRICING:
Adult tickets booked online and at the gate: $20.00
Seniors Pension Card tickets booked online and at the gate $17.00
Kids Tickets (5 - 15 years) are $5.00 ~ under school age children are free.
Tickets for the 2019 Lost Trades Fair are not refundable, the Fair is an all weather event.
Any unsold tickets (if any) will be available at the gate. All pre-booked tickets are guaranteed entry.
Venue: Hawkesbury Showgrounds, Racecourse Road, Clarendon NSW. Clarendon is between Windsor and Richmond. The Clarendon Train Station is across the road from the Showgrounds.
Please note: Dogs are strictly NOT permitted at this event
(Service & Guide Dogs are accepted)
Getting to the Lost Trades Fair:
Clarendon is located in the Hawkesbury region between Windsor and Richmond, just under one hour west from Sydney.
By Car: Parking is available on-site for $5.00 and is managed by the Oakville Rural Fire Brigade - Note that 100% of this parking fee goes to the Oakville RFB.
By Public Transport: Trains run regularly from Sydney to Clarendon Station (Richmond Line) - the station is across the road from the showgrounds.
Information:
For fair updates visit us on facebook.com/losttrades OR website:
losttradesfair.com.au
Accessibility: The Showgrounds Accessibility: The Hawksbury Showgrounds is an outdoor event space, many areas are flat and paved. There are pavillions that exhibitors and artisans will be located. The grassed areas that most exhibitors will be located on are not paved and the ground although flat my be be a little uneven. We do not have mobility scooters for hire.
FOR MEDIA & PR ONLY : contact Lisa at Tomahawk Marketing & PR e: lisarundell@mac.com