Elevate Global Prophetic Intensives - Rockingham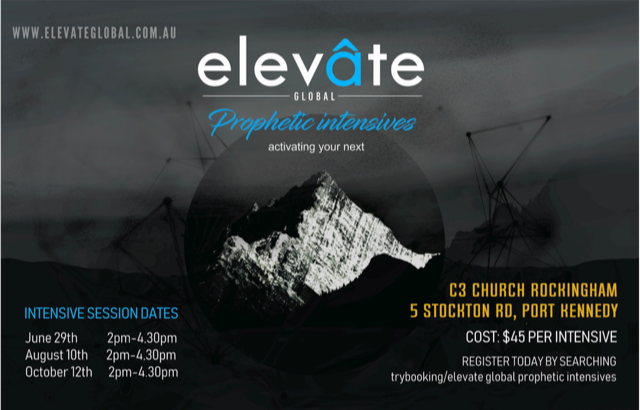 God is calling out prophets & prophetic people from a place of hiddenness. It's a marked time to come out of the shadows to fulfil your calling.
These prophetic intensives are not limited to individuals being taught about the prophetic, but also creating a relational platform for ongoing coaching, community and growing the prophetic in regions.
WHO ARE THE PROPHETIC INTENSIVES FOR?
All who need the right environment to be activated in the prophetic.
Anyone desiring to grow in the current season in the prophetic.
Those needing to be reset & relaunched into the prophetic.
WHAT YOU CAN EXPECT
Each intensive is 2 sessions of teaching, impartation & activating the prophetic.
Including: Q&A self-assessments to help unlock a better understanding of yourself and God.
Safe environment for learning and growing in the prophetic.
Notes will be provided.
SPEAKERS: Peter & Christine Christensen
We have had the privilege of training numerous churches & people in the prophetic over the past 26 years. This includes initiating & developing prophetic training schools in 5 different nations.
If you would like more info in relation to who we are and recommendations please go to:
www.elevateglobal.com.au (go to About us & recommendations)
Location
C3 Church Rockingham
5 Stockton Road, Port Kennedy WA
Contact Details