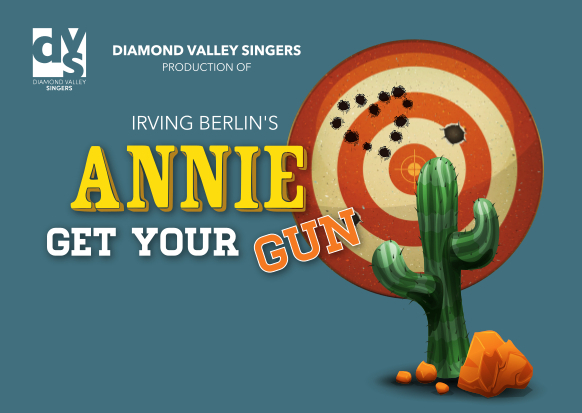 Please note that ONLINE ticket sales for the performance on Saturday July 13 @8pm have now closed.
Plenty of seats are still available at the box office at the theatre for this performance, cash sales only.
Annie Get Your Gun
1999 Stone Revival
Annie Get Your Gun is presented with permission of ORiGiN™ Theatrical
The story of Annie Oakley is a truly remarkable one. For a Victorian woman to become a sharpshooter, (let alone the best in the world!) was an extraordinary achievement. Annie's great skill, combined with her charming nature made her one of the best-loved Wild West characters of all time. That the real Annie Oakley was also a great philanthropist, a champion of women's rights and a strong supporter of the Indigenous Americans makes her even more remarkable. At a time when women were viewed as chattels, and native Americans as a scourge, Annie Oakley broke all taboos, shot her way to financial independence and was adopted by the great Sioux Indian chief Sitting Bull. Was ever there a more deserving leading lady for a musical?
Joined to the new book, of course, is that amazing Irving Berlin score, featuring hit after hit after hit, including 'There's No Business Like Show Business' and 'Doin' What Comes Naturally'.
Irving Berlin's greatest achievement in the theatre" wrote the New York Post, ANNIE GET YOUR GUN "will always be a musical for the ages, one of the Broadway theater's enduring triumphs."
Cash sales only at the box office door
DIRECTOR: Merinda Gallagher
CHOREOGRAPHER: Claire Colthup
MUSICAL DIRECTOR: Ian Lowe
PRODUCTION MANAGER: Angela Hennel
TICKETS
Theatre - Adult, $30, Concession/Group of 10+, $25, Child under 18 years - $15
Restricted Section - Adult, $25, Concession/Group of 10+, $20, Child under 18 years, $10
(please note that your view of the stage may be impeded from these seats)
Special Offer Friday July 5 and Wednesday July 10th - all adult tickets $25, Child under 18 years $12.50
VENUE
Warrandyte High School Theatre
Corner Alexander and Heidelberg Roads
Warrandtye, Vic 3113
Map
HERE
Contact Details:
CONTACT DETAILS: Angela EMAIL tel: 0407 552 049 (pleaase note I am unable to reserve seats)

Find out more about the show and Diamond Valley Singers HERE