Raffle For Eli. The Vocal Majority Chorus collection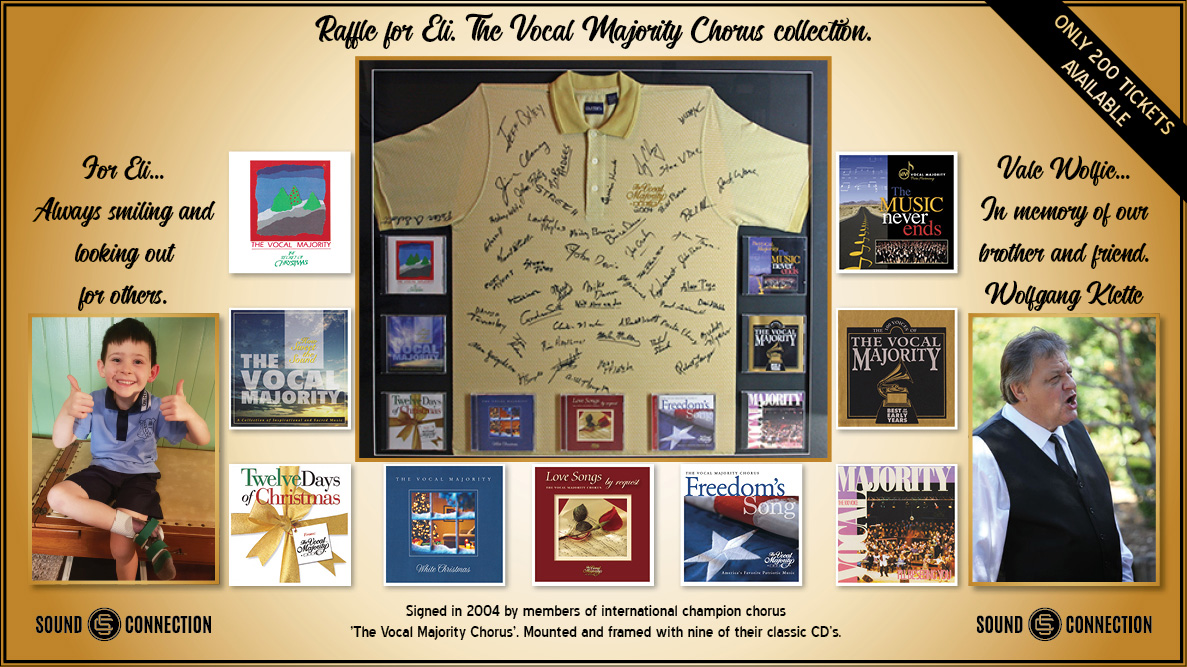 You could win this unique framed collection.
Framed with a monogramed shirt signed by the Vocal Majority Chorus members of 2004 and nine of their classic CDs.
With only 200 tickets available - chances to win this distinctive prize are very good.
AND - all funds will be donated to Eli's family.
In 2014 little Eli Hicks was diagnosed with Autism. In 2015 he was diagnosed with ADHD. But Eli's biggest battle was yet to come. In February of 2017 after months of tests and suffering, Eli was diagnosed with a Connective Tissue Disease called Ehlers Danlos Syndrome (EDS). EDS is caused by a lack of collagen and elastin in the body. There are many chromosomes in the body that produce collagen but most of Eli's don't work. They are either mutated or missing altogether.
Eli doesn't really understand what is happening to his body but he refers to that time as "When my legs stopped working properly". When he was smaller it wasn't such an issue, but as he grows, his body can't keep up with enough collagen and elastin production. This has caused his joints and ligaments to become hypermobile and 'floppy' in appearance. He has frequent joint dislocation of his ankles and most recently his shoulder.
Enter Wolfgang Klette… 'Wolfie' (who recently passed away) was a founding member of Sound Connection chorus along with Eli's dad, Michael. Wolfie was a larger than life character with a big heart and a big voice. Many people would know of him if not in person, for his 'terrible' jokes and his penchant for telling a good story.
Many years ago (in 2004) Wolfie was lucky enough to win a framed shirt and CD collection of The Vocal Majority Chorus. This iconic barbershop chorus is 13 times Gold Medal winners in Barbershop Harmony Society chorus competitions, with their most recent win in 2018. It was Wolfie's wish that his cherished, framed CD and signed shirt collection be raffled, and the funds donated to Eli's family to assist with his ongoing medical costs.
Terms and Conditions: 1. The promoter is Pivotal Point Harmony Inc. PO Box 10839 Southport BC Qld. 4215, 2. The prize consists of: A framed collection nine CD's and signed monogramed shirt from The Vocal Majority Chorus. The prize is valued at $400.00 3. Prize is offered as is, is not transferable and cannot be exchanged for cash. 4. No responsibility will be taken for valuation of the prizes. 5. By accepting the prize the winner indemnifies the promoter against any claim rising from the winning of the prizes. 6.The raffle will be drawn via live FB streaming on 2nd September 2019 at approx 9.00pm 7. The judges' decision is final and no correspondence will be entered into. 8.If the winner/s are not present at the draw they will be notified by phone or mail. 9. The winners will need to make arrangements to collect the prize (at their own cost) from the promoter.
Contact Details