Rebecca Davis RADAR TECHNIQUE workshop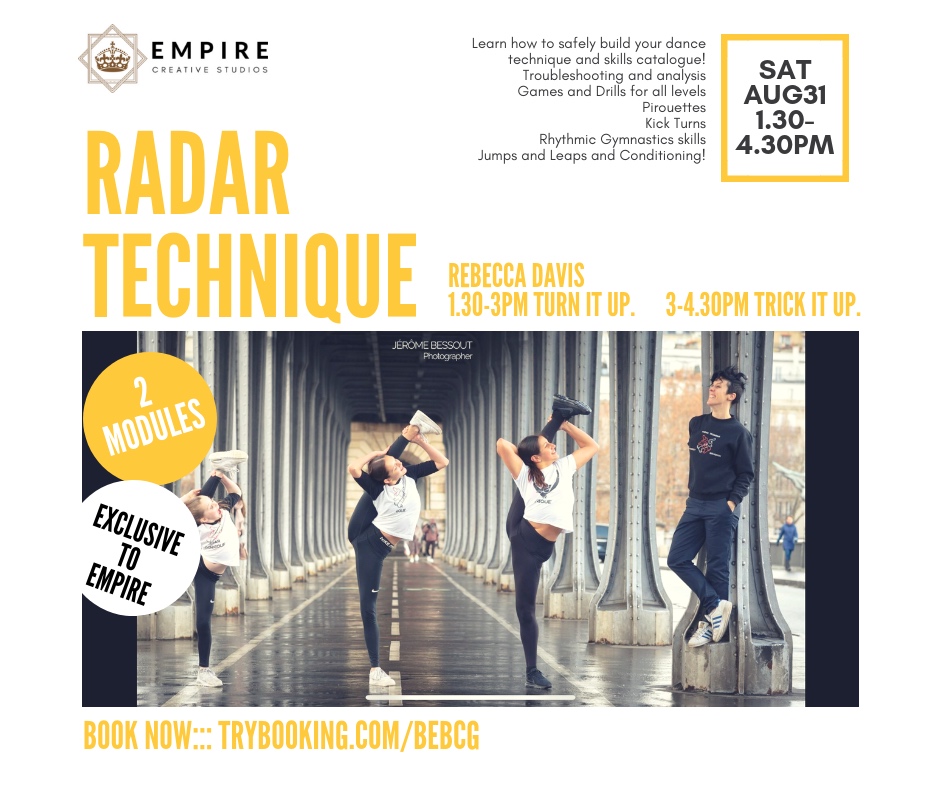 EXCLUSIVE to Empire Creative Studios, Rebecca Davis is coming to share her absolute wisdom to getting all of those amazing technical tricks your dancer dreams of pursuing in a safe and fun technical training workshop.

Saturday 31st August 2019
1.30pm to 3pm – Turn it Up
3pm to 4.30pm – Trick it Up
Learn how to safely build your skills catalogue!
Troubleshooting and analysis
Games Drills for all levels
Pirouettes
Kick Turns
Rhythmic Gymnastics skills
Jump, Leaps and Conditioning
REBECCA DAVIES pioneered the Radar Technique training program over a period 12 years, while training and producing Australia's most elite and well-known dancers within her own studio.
The Radar Technique workshops and online modules contain everything and anything you would like to learn including the HOW and WHY and WHAT FOR any questions you may have.
Learn how to safely build your dance technique and skills catalogue!
2 Moduels - Session Times
1.30pm to 3pm – Turn it Up
3pm to 4.30pm – Trick it Up
Cost –
1 x 90min module participant pass - $80
2 x 90min module participant pass - $150
1 x 90min module observer pass - $40
2 x 90min module observer pass - $70
Location
Empire Creative Studios
1/15 Halley Rd , Balcatta WA 6021
Contact Details