A Circus Variety Showcase
18 - 21 September 2019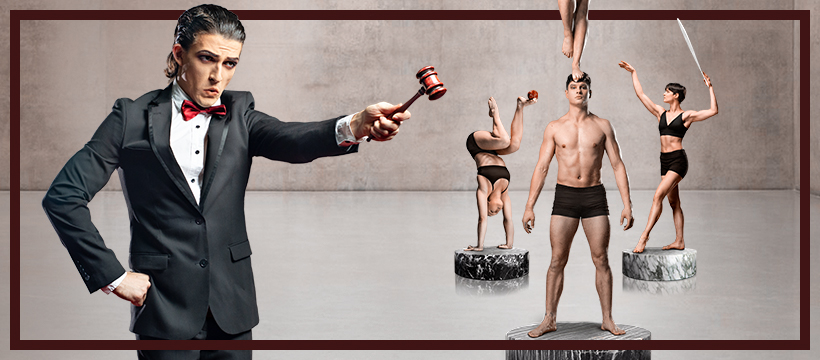 Set in a high-class auction room under the unpredictable gavel of subversive MC Mitch Jones (Australia's Got Talent 2019, Autocannibal), Hard Sell sees 17 artists transform the stage into a bidding war for Australia's newest, elite circus talent.
Life imitates art - from the comedic to the dramatic - in a variety line-up including trapeze, roue Cyr, tightwire, handstands, acrobatics and more amazing physical skills.
Circus industry attends NICA's third year student showcase to scout talent for national and international touring, so the stakes are high and sales may be made.
Spectacular, creative, and dazzling, secure your tickets before you can say "going, going, gone".
- When it comes to art, it's important not to hide the madness. (Atticus)
NICA is Australia's Centre of Excellence for training in contemporary circus arts. It is one of eight national arts training institutes and offers Australia's only Bachelor of Circus Arts. Graduates of NICA have gone on to pursue exciting careers both locally and internationally and have contributed to the development of Melbourne's vibrant circus arts industry.

TimeS And duration
Preview Tuesday 17 September 7.30pm
Wednesday 18 – Saturday 21 September 7.30pm
Saturday 21 September 2pm Matinee
Duration: 2 hours (including 30 minute intermission)
PRICES
Adult $30
Concession $23
Family (2 adults 2 children) $85
Family (2 adults 3 children) $99.50
Group (Min. 10 people) $25 per person
Preview (18 June) $16

*All tickets General Admission
*Children refers to U16
LOCATION
NICA National Circus Centre,
39-59 Green Street, Prahran, VIC
CONTENT WARNINGS
Rated: PG (Parental Guidance Recommended). Children under 15 must be accompanied by an adult.
Most Suitable For: Ages 12+
Content Warnings: Mild coarse language. Please be aware that a fog machine and some loose powder will be used on stage.
ACCESSIBILITY

Entry on street level -

entire space including entrance points, is wheelchair accessible
The only stairs in the building is the tiered seating in the theatre. If you are using a wheelchair, a front row seat on ground level will be arranged - please let us know at the time of booking
Inside the theatre, there will be a stage to the left and a seating bank to the right
Outdoor space available to audience members near the entry of the venue
Hard, non-carpeted flooring throughout
This space can be quite loud and crowded
Support animals will be allowed
Free drinking water provided
Carers and support people can attend the show for free, please contact us to arrange
Accessibility toilet:
Handrails, hand basin with accessible tap handle, hand dryer at appropriate height for wheelchair use & angled mirror
Dimensions 2.3 m x 1.9 m
Entrance door width 850 mm, accessibility toilet corridor width 1.6 m, corridor entrance 1 m (no door)
Distance from corridor entrance to toilet door 1.5 m, from toilet corridor to theatre main entrance is 17 m
Entry to the bathroom requires no key
There are handles and latches on the bathroom doors
Contact Details
Alternatively, get in touch with us via:
Telephone (+613) 9214 6975
Fax (+613) 9214 6574
Email info@nica.com.au
PARKING AND PUBLIC TRANSPORT
Please note there is a lack of on street car parking availability around NICA. Roads surrounding NICA have limited street parking.
Stonnington Council operates a number of outdoor car parks that are a short walk from NICA. These include:
- Windsor Station Carpark, 28 Chapel Street - ticketing paid parking, Monday - Sunday all day
- James Street Carpark, 8 Lincoln Place - free 2 hour parking, Monday - Saturday 9am - 6pm
Check Melways Maps and Google Maps for locations.

TRAMS AND TRAINS
From Flinders Street Station take the Sandringham Line train to Windsor or Prahran Stations. The Number 6 Glen Iris Tram runs along Swanston Street. The closest stop is on the corner of High and Chapel Streets.
Trams operate from 5.30am to 12.00pm midnight and with extended services available on Friday and Saturday nights. Visit metlinkmelbourne.com.au for timetable information.