KIDS DAY
BROUGHT TO YOU BY
UNREALESTATE & GEOFF KING MOTORS
WED OCT 2
PARK BEACH RESERVE COFFS HARBOUR
Gates open 9.30am , fun starts at 10am
Fully fenced location with food vendors, all attractions, playground & toilets inside the perimeter fence.Lots of shade & yes you can bring you own food , your own chair. Food/drink on sale inside. Smoke & alcolhol free event.
In the event of wet weather all activties move to Sportz Central Brae St, watch our Facebook pagr & listen to MMM 106.3
Ocean Parade Coffs Harbour.
Join us in the fully enclosed reserve for one big day of monster fun! See ticket pricing policy below.
BUSKERS - RIDES - FOOD - FUN - INTERNATIONAL ACTS - SYDNEY BREAKDANCERS - THE BATMOBILE & MORE
FOR AN ALL INCLUSIVE EARLY BIRD PRICE OF $10 + b/fee.
BOOK NOW ! 10am - 2.30pm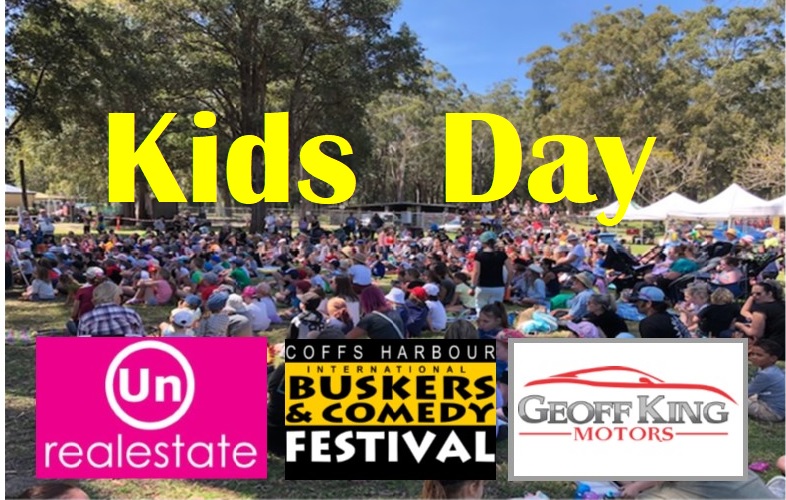 PLEASE READ CAREFULLY : TICKET PRICING POLICY.
All children over 18 months to pay .
ONE PARENT/CARER PER CHILD ADMITTED FREE
If additional ADULTS wish to attend( eg another Parent or Grandparents or other Siblings or Friends ) they just buy an ADULT TICKET ( Same price) ,
A child is any person aged 18 months to 16 years. Over 16 years becomes an adult.
CLICK THE LINK ABOVE TO GO TO THE PURCHASING OPTIONS .
When completing this transaction, the booking platform charges a small fee . This is the smallest booking fee we could find. If you know of a cheaper one, tell us & we will use it.