port of Mercedes Benz Adelaide and Unley, People's Choice Credit Union, Adelaide Convention Centre andA our other sponsors, make this year's Adelaide White on Breakfast possible. So please help us make this event a success and show your support, come along and help share the message that men's abuse of women must stop.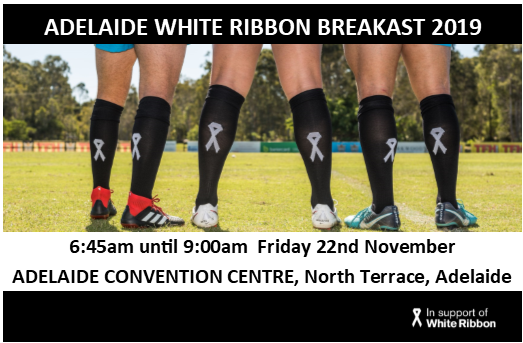 Although this event is closed you can contact the organiser below and request to be put on the waiting list
Sport is a critical channel for embedding respectful relationships, gender inclusion and the prevention of violence against women.
Millions of Australians play or are involved in sport at some time in their lives and, as a result, sport can be a powerful and influential vehicle for growing safer and more respectful communities.
The Adelaide White Ribbon Breakfast will this year bring together a diverse and interactive panel from across AFL, AFLW, NRL and Soccer to promote the positive role men can play in fostering respect and gender equality across our sporting cultures.
Tickets $60.00
Concessions, name required on booking
Full Time Student $40.00
Health Care Cardholders $40.00
Tables seat 10 (some 12)
Date: 6:45am, Friday, 22nd November 2019
Adelaide Convention Centre
North Terrace
Adelaide, SA 5000