Coming home to self with Liza Perks & Tanya Wilson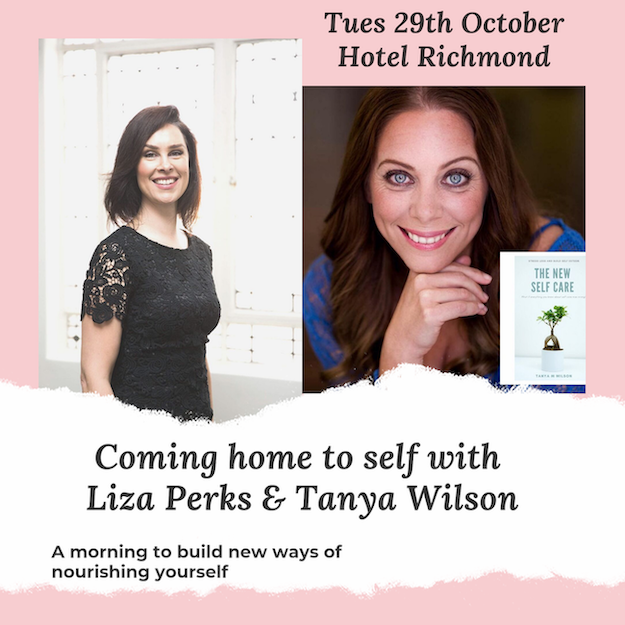 A magic morning with Liza Perks & Tanya Wilson talking about how to build new ways of nourishing yourself.
Gather with like-minded women and hear about how to cultivate self-care and self-love. Come home to yourself. Come home to us, women just like you, who wish to be truly loved, seen, heard and supported on this journey we call life.
Liza Perks an NLP Practitioner, Hypnotherapist and Life Coach will be sharing her wisdoms about how self-care effects the unconscious and conscious mind and the essential role it has on our nervous system.
Tanya Wilson a Psychotherapist & Coach whose mission is leading people out of their suffering, it is what shapes and underpins her life, her business. She has had over 20 years' experience in the natural health and mental health arenas and has just released her new book called 'The New Self-care'.
Just a snippet of what you can glean from these amazing women;
How pathological busy-ness, too much responsibility and overwhelm are the end result of lack of self-care

Self-care is an attitude and a state of mind, NOT another thing to go on your to do list. Tanya Wilson will show you how to move toward your self-caring state of mind and away from 'rushing women's syndrome'

How to LEAD with self-care, rather than using it as a bandaid after you've exhausted yourself
Saying YES to this day means you will be supporting our beautiful friend Natalie who has Stage 4 Breast Cancer. We, her close friends have banded together to support her on this tough part of her journey and 100% of the proceeds from this event go towards sending her over to a cancer centre in Japan, that specialises in treatments not available here in Australia. So not only will you walk away from this day with a connection to the divine goodness that resides within you, you'll be altering Natalie's life for the better, because self-care is also about women supporting women!
Here is some of Nat's story;
"At 42, with not one symptom, I was diagnosed with invasive breast cancer. In the blink of an eye your life can change. The enormity of being faced with your mortality so unexpectedly is indescribable. My daughter was 10 years old when I was diagnosed and she watched me endure surgeries, severe medical emergency, chemotherapy and radiotherapy. Together we adapted, laughed, cried and survived. Izzy is mature beyond her years and the reason for my strength but far too young for life to turn so serious. After passing the five year all clear mark I was hopeful the hideous treatments had been worth it. But later in that sixth-year stomach issues kept arising and after weeks of testing they told me the cancer had metastasized. They then told me I was incurable. The way all the news was delivered was so heartless it still shocks me. To take away my hope and put an estimate on my time is cruel beyond belief. To then have to tell my daughter, was heartbreaking beyond words. For the last two years I've been giving this fight everything I've got. It has been very difficult this last year with an emergency surgery and chemo since April. My beautiful friends want to help me with treatment options that unfortunately aren't offered in Australia. I am so very grateful to all of you for your help and support."
Morning Tea platters and a complimentary glass of Bent Creek will be available for your enjoyment, the expected flow of the morning is as follows;
10:30am: Arrival
10:45am: Welcome and guest speaker introductions
11:00am: Liza Perks
11:30am: Short break
11:45am: Tanya Wilson
12:15pm: Q & A
12:30pm: Finish
Ladies - invest in yourself and support a beautiful woman, our friend Natalie. Get your tickets now!
If you are unable to come to this special event but wish to contribute, please feel free to go to the donate now section to support Natalie, thank you for your kindness.
Location
Hotel Richmond - Balcony Room
128 Rundle Mall, Adelaide CBD South Australia 5000
Contact Details