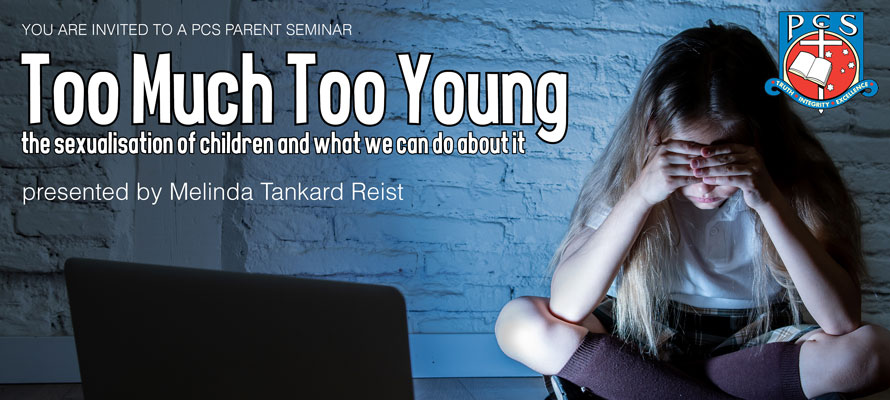 There is no charge for this event, but a $5 donation at the door is suggested to contribute towards costs.
Children and young people are bombarded with hypersexualised messages from media and popular culture. Even small children are worried about their looks and physical appearance, shaped and conditioned at the earliest of ages by a dominant message that tells them they have to be 'hot' to be liked and accepted.
The lives of young people are increasingly socialised, conditioned and informed by porn-related content online. They are exposed to this content not only before they have had sex, but often before their first kiss, with 11 years being the average age of first exposure. Drawing from current global literature on the subject, Melinda will explore with parents and friends how the proliferation of sexualised images and messages contributes to a distorted view of bodies, relationships and sexuality, hampering their children's healthy physical, emotional and social development.
How can we address this toxic culture and raise happy, healthy and resilient kids?

ABOUT THE SPEAKER:
Melinda Tankard Reist
is an author, speaker, media commentator, blogger, thought leader and social entrepreneur. Melinda is a regular guest on morning television, a regular contributor to the ABC and has also appeared on Q&A, The Gruen Sessions and many other TV and radio programs. Melinda is cofounder of Collective Shout: for a world free of sexploitation, exposing corporations, advertisers and marketers who objectify women and sexualise girls to sell products and services. An ambassador for World Vision Australia, Compassion Australia, Hagar NZ and the youth mentoring Raise Foundation, Melinda is named in the Who's Who of Australian Women and the World Who's Who of Women.
ALL WELCOME:
This parents only event is open to PCS families and anyone in our local community. Please invite friends and family to attend.
WHEN:
Thursday 14 November 2019
TIME:
7.00 pm
COST:
$5.00 suggested donation at the door
Location
Penrith Christian School
1 Simeon Rd, Orchard Hills NSW 2748