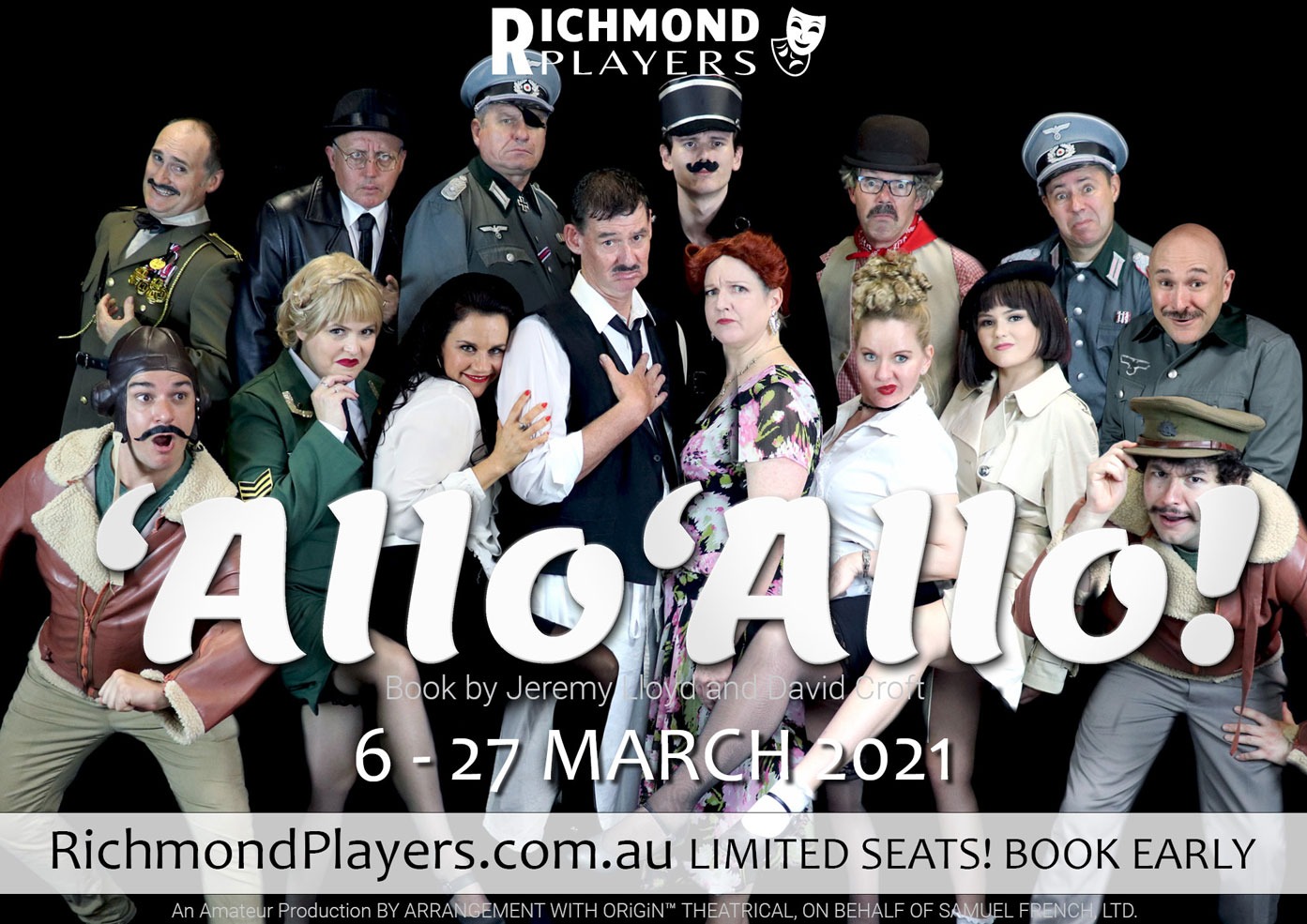 Richmond Players is committed to keeping our visitors safe. We have introduced a range of health and safety measures guided by the NSW Government to ensure your attendance at our performance will be safe and enjoyable. By purchasing a ticket, you agree to follow our safety measures and any associated direction from our staff. Please refrain from bringing bulky items to the theatre.
'Allo 'Allo
Book by JEREMY LLOYD & DAVID CROFT
​An amateur production by arrangement with ORiGiN™ Theatrical, on behalf of Samuel French Ltd.
Based on the hugely popular TV comedy series, the stage version of 'Allo 'Allo follows the adventures of Rene, the hapless cafe owner in war-torn occupied France as he & his wife, Edith, struggle to keep for themselves a priceless portrait stolen by the Nazis and kept in a sausage in their cellar.
Rene is hiding two British airmen & is endeavouring, with the help of the Resistance, to repatriate them. However, communications with London through a wireless disguised as a cockatoo add to the many embarrassments he endures in the company of his patrons.
Matters come to a head with the news that the Fuhrer is to visit the town & the cafe becomes filled with tricksters intending to impersonate Hitler before the event. Rene will need all the wit he can muster to save his cafe & his life...!
Performances
March 2021
Saturday 6 March: 8pm
Opening night with a FRENCH TARTS & PIMPS fancy dress theme (optional)
Come in Parisian fancy dress & you could win a prize!
Saturday 13 March: 2pm and 8pm
Saturday 20 March: 2pm and 8pm
Saturday 27 March: 2pm and 8pm
NB: Seating for this event is general admission. Seat allocation will be advised when you arrive at the event.
Venue
Richmond School of Arts
Cnr March and West Market Streets
Richmond, NSW 2753

Refunds
We ask people to not attend performances if they are unwell. Refunds will be given if people are unwell on a case by case basis.
Contact Details