CLASS OF 2010 - 10 YEAR REUNION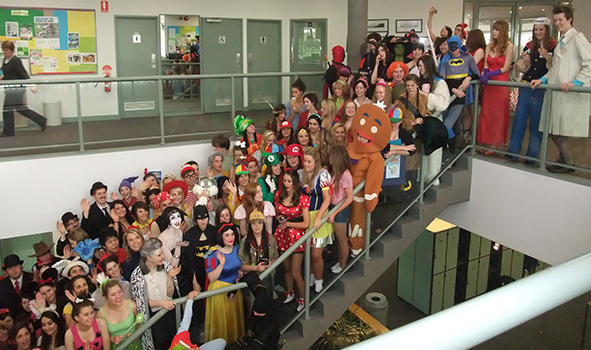 Class of 2010 join us for your 10 year reunion. Enjoy an afternoon of nibbles and drinks while you reconnect with classmates and the School. Following your reunion at School, you can continue the catch-up with drinks at Suburban Dining and Rooftop (formerly The Cellar Door), Ringwood.

You are welcome to attend either the school reunion or offsite catch-up, or both! And partners are welcome to attend both as well.
Southwood boys, please join us on the day at 2.15pm at the Maidstone Street site for a tour of the grounds, then return to Tintern for the remainder of the Reunion.

Make sure we have your current details by updating your details here: https://www.tintern.vic.edu.au/past-student-update/ Please allow 3-5 minutes to complete this form accurately, your responses will help us to communicate with you effectively.
WHEN
Saturday 22 February 2020 at 3.30pm to 6pm
Southwood Boys start @ 2.15pm front entrance, Maidstone street Ringwood and then head across to Tintern for drinks and nibbles from 3.30pm
Where
Year 9 Courtyard, Tintern Grammar
90 Alexandra Avenue, Ringwood East
Followed by Suburban Dining and Rooftop (formerly The Cellar Door)
Town Square, Eastland Shopping Centre, Maroondah Hwy, Ringwood
Cost
Canapés and a selection of drinks at Tintern:
No Cost for Alumni

$10 for the guest of a past student
Food and drinks available for purchase at Suburban afterwards.
RSVP
Book your ticket here by Friday 14 February 2020.
ENQUIRIES
All enquiries can be directed to Di Lacey or Tegan Martin 03 9845 7877 or email communityrelations@tintern.vic.edu.au
PARKING
Parking will be available in the Bush Car Park @ 55 Alexandra Road East Ringwood or in our Transport Bus Bay @ corner of Loma and Morinda Streets East Ringwood.
If parking on the side streets please be aware of any parking restrictions that apply.
Signs will be available on the day directing you to the Year 9 Courtyard, or you can view the map here.
FACEBOOK GROUP
Please visit the Facebook event for your reunion here.
ITINERARY
2.15pm - Tour of Maidstone Street - Former Southwood Campus
3.30pm - Event commences at Tintern Grammar, Year 9 Courtyard
Drinks and Canapés to commence
3.45pm - Official welcome from our Principal Mr Brad Fry
4.45pm - Group Photo
5.10pm - Tours to commence
6.00 - 6.15pm approximately - Attendees to depart for Suburban Dining and Rooftop
Get directions