Pop Up Garlic Farmer Program 2020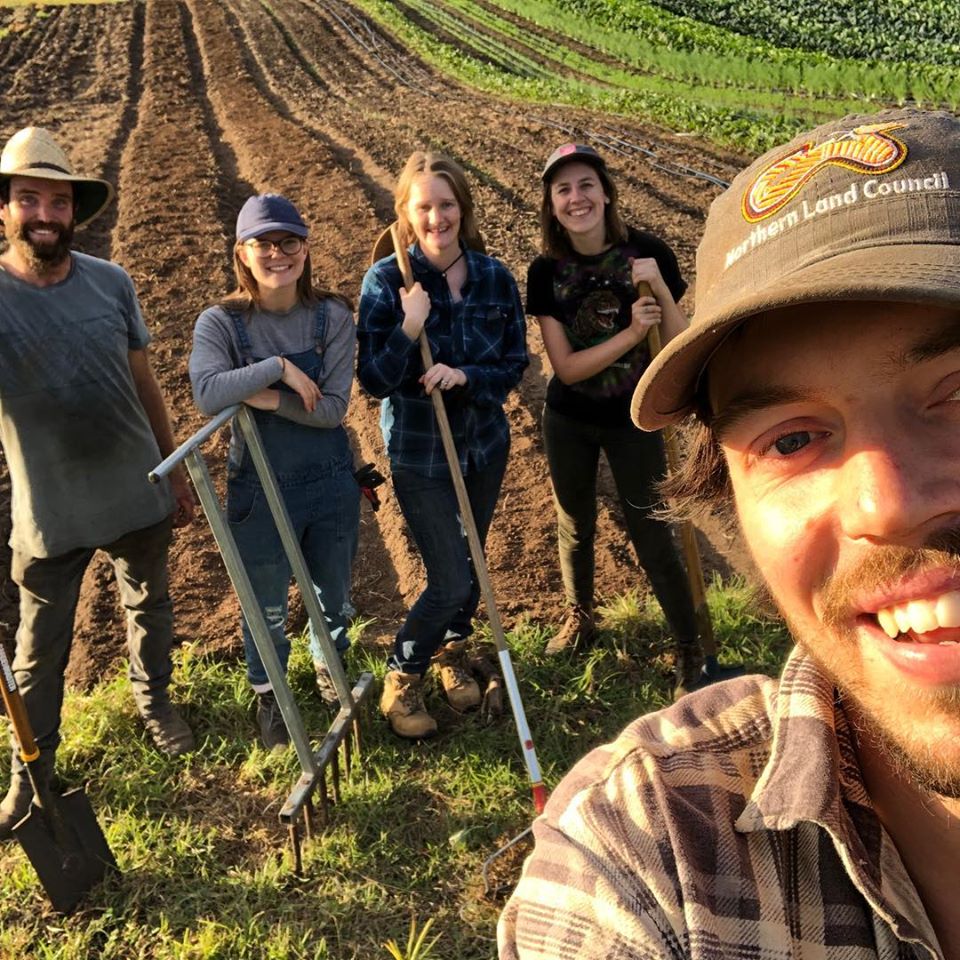 Farmer Incubator's Pop Up Garlic Farmers (PUGF) Program offers aspiring farmers the opportunity to enter the world of agriculture with access to land, resources and mentorship in order to experience growing a crop on a larger scale than their backyard.
From Feb to November 2020 as a Pop Up Garlic Farmer you can take a crop of garlic right through from seed to harvest and market with a load of learning experiences and farm tours across the year to teach you everything you'll need to know. Throughout the program, you'll meet experienced farmers, visit established small-scale farms, and hear from experts across a diverse range of fields. Each site will have a FI Site Manager to support you each step of the way and at least 3 other fellow Pop Up Garlic Farmers to share the experience.
PROGRAM DETAILS
The PUGF program is a great way to try farming in a risk free and supported environment while building skills, knowledge and networks as you go. Over the 9 months you will work at your selected site with other PUG Farmers to cultivate and grow your garlic from seed to market using organic farming practices. While we do expect a basic level of food growing knowledge and 100% commitment to the program along with a willingness to communicate and work with fellow farmers - this program is perfect in that, with a bit of planning, it can fit around work and study commitments.
PUG Farmers will be expected to spend at least 1 day a month at tending to their crop in addition to taking part in the workshops outlined below.
The program cost ($1150) includes the following:
- 8 x workshops & farm tours and all learning materials
- your garlic seed to plant (approx 500 seeds)
- land use & access for 10 months
- water and irrigation equipment
- mulch & compost inputs at the outset of the program
- a copy of Penny Woodward's 'Garlic' book (also known as the Garlic Bible!)
- Crop Enterprise Budgeting planner
- access to tools
- on site insurance incase of any accidents
- 4 x lunches provided, and tea/coffee available at every workshop
- new friendships/community connections/business partnership opportunities!
- your own crop of organically grown garlic at the end of the year to sell, give away or simply keep for yourself :)
4 Early Bird tickets are available at the reduced price of $1050. Get in quick - places are limited!
Interested but can't commit to a whole crop? Book in to join us for 4 of our PUGF workshops later in the year (Farmer Marketing, Weeds/Pests, Co-farming/Accessing Land, and Harvesting/Curing Garlic)! Check dates below and then select 'workshops' option on the bookings page.
PUGF 2020 SITES
PUGF sites are selected by paying participants on a 'first in (ticket buyers) best dressed' basis. Interested PUGF participants are encouraged to buy their ticket to secure their place in the program ASAP and notify us of their preference in the ticketing process. Up to 2 weeks before the course commencement, you are entitled to a 100% refund.
Keilor Site - Days's Walk Farm, Keilor
Located just half an hour's drive from Melbourne, these plots are found at Paul Mirgaliottas organic farm. Accessible any day of the week, you will be right inside a buzzing farm atmosphere, and meet farmers as they go about tending amazing organic crops. The Maribyrnong River runs along the border of the property and is a great place for a swim after a long weeding session!
Seaford Site - Down's Estate Community Garden, Seaford
This beautiful site sits within Seaford Wetlands, with plenty of bird life, bike trails, and native plant species to surround you while farming. A forty minute drive from the CBD, it is also accessible by train and bike and can be visited any day of the week. The lovely community of gardeners is friendly and welcoming and also host Melbourne University students researching native edible plants. (5 spots available)
Yarra Valley Site - ECOSS Sustainable Community Living Hub, Yarra Valley
Just over an hours drive east of Melbourne and also accessible by public transport, ECOSS is a not-for-profit community organisation and permaculture designed farm. On this beautiful property ECOSS demonstrates sustainable living solutions including beyondorganic & biodynamic vegetable farming. Plots here have been generously provided by farmers Josh Tucker and Tobias Magar and can be accessed whenever participants wish to tend their garlic crop! (4 spots available)
City Site, Collingwood Childrens Farm
Nestled in the grounds of the Abbotsford Convent and only 5 km from the heart of Melbourne, the Collingwood Children's Farm sits on a patch known to be the the oldest continually farmed land by colonialists in the state of Victoria, with farming commencing in 1838. Always buzzing with activity, CCF has generously offered land along the bike trail next to a fruit orchard and goat paddock which will always be accessible for participants. (5 spots available)
Greensborough Site, Beales Road Farm
Grow your garlics on an under-utilised piece of land in suburban Greensborough, alongside a collective called The Veggie Empire! This wonderful garden grows local food while supporting people with disability to develop urban agriculture skills and community connections through a vocational buddy system. A farm gate and market stall is in development and the local community is excited about produce grown here! This site is accessible by bus or bike and is an amazing example of alternative uses of suburban green space. (5 spots available)
NEW BONUS SITE! Coburg Site - Joe's Market Garden
Located right in the heart of Melbourne's north, just 8km from the city and a hop skip and a jump from CERES along the Merri Creek bike path, this two acre plot has been famed continuously by Chinese and Italian gardeners for over 50 years, making it Melbourne's longest surviving market gardens. With a weekly farm gate every Saturday morning, you can grab a coffee, some fresh-baked pastries and buy produce direct from resident farmer, Emily Connors, after tending your crops. One word of warning is that some garlic has come out deformed years ago and we do not know if this is still a problem, so remediating and building up the soil will be your farming challenge, if you choose to accept it!
Workshops
It is important to check whether you are available for the following dates. Here is the list of fantastic PUGF program workshops you can be a part of as a Pop Up Garlic Farmer - details and locations will be confirmed by March 2020.
Workshop 1 – Introductions & Planning
Date: Saturday 29th Feb
Time: 9:30am - 1:00pm
Location: Peppertree Place, 512 Sydney Road, Coburg

- Meet and greet at the Peppertree Place cafe, then move to the garden for an introduction to Farmer Incubator, meet our site facilitators, overview of the course, notes handout, site descriptions & meeting your fellow garlic farmers. Group decision-making & effective teamwork. Basic crop enterprise budgeting & planning
Workshop 2 - Soils & Agronomy
Date: Saturday 21st March
Time: 10.30am - 3pm
Location: Downs Estate Community Garden, Seaford
- Introduction to soils; learn the basics of soil chemistry, biology and structure from a professional Agronomist. Discussion of soil amendments and appropriate soil prep and maintenance. Please bring…soil from your site ;-)

Workshop 3 - Planting & Cultivating
Date: Saturday 18th April
Time: 10.30am – 2pm
Location: Collingwood Childrens Farm
- Discussion and Intro to low impact cultivation techniques. Safe and effective use of farm tools & equipment, as well as proper maintenance. Bed preparation, and sowing & caring for the crop.

Workshop 4 – Farm Tour
Date: Saturday 16th May
Time: 10:30am – 3pm
Location: TBC
- Tour of a small scale farm! This will give you a good idea of the practical aspects of running a market garden, hear about some of his highlights as well as some of the challenges faced, and provide you with an opportunity to ask an experienced farmer all your questions.
Workshop 6 – Weeds, Pests & Diseases
Date: Saturday 8th August
Time: 10.30am - 2pm

- An onsite farm workshop & discussion of the potential weeds, pests and diseases that might arise, strategies on how best to manage them and the effect on the crop's outcome if not effectively mitigated.
Workshop 6 - Co-farming and Accessing Land for Your Future Farm
Date: Saturday 19th September
Time: 10.30am – 3pm
Location: TBC
- Learn about co-farming models in practice here in Australia and abroad and get ideas in how you can access land via alternative pathways.

Workshop 7 – Marketing Your Product
Date: Saturday 17th October
Time: 10.30am – 2pm
Location: Neighbourhood Wine, 1 Reid Street, Fitzroy North
- Introduction to food marketing, and an exploration of the many ways to sell your food product; how to have an effective farmers market stall, the experience of a small farm selling direct to retailers & restaurants and the benefits of value-adding.
Workshop 8 - Harvesting and Decision Making
Date: Saturday 7th November
Time: 10.30am -2pm
- Learn how to correctly harvest your garlic, safely store & cure it, as well as how to braid and even preserve it! This is our final workshop together, and we will celebrate the finish of our time together as a group by feasting on a delicious pot-luck farm lunch one last time!
- Later we take what we've learned about marketing, combine it with personal preferences and intuition in order to make sound and effective group decisions about what to do with our garlic.
For any questions or queries contact PUGF at hello@farmerincubator.org
Location
Pop Up Garlic Farmer Program
In and around Melbourne,
Contact Details