Building Visibility and Influence for Women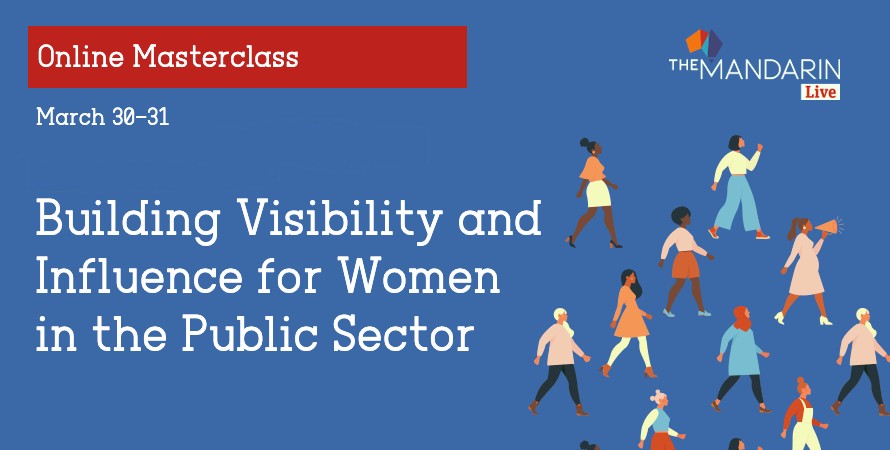 UPDATE: We're pleased to announce that in this time of great uncertainty and complexity, we are able to continue offering this excellent program to participants as an online experience.
All you need is a Mac/PC or phone, and the Zoom app. Course presenters Julia and Sarah have deep experience delivering programs online with both large and small groups of people participating across timezones and geographies. We are confident they will deliver an outstanding program for you.
A critical masterclass that enables women in leadership to maximise their influence, definite a clearer leadership vision and access peer coaching and support.
Led by Co-founders and Directors of Visibility Co.
Julia May and Sarah Anderson.
This program is structured around three pillars of visibility to support women in and towards leadership, unlocking the mindset and practical skills to support strategic influencing, communication and greater impact, both within organisations and in the outside world.
While the research shows that women outperform men in most leadership capabilities, they are under-represented in leadership across nearly all levels of government. We want that to change. That's why we've partnered with global visibility experts, Julia May and Sarah Anderson, to present a two-day masterclass for women in the public sector who are seeking to elevate their visibility and maximise their influence.
This masterclass is for you if you:
Care deeply about the work you do and want to have a meaningful impact, both within your organisation and in the outside world

Know your visibility is a critical enabler of your leadership but aren't sure how to advance your mindset and skills to have more influence

At times struggle to get cut-through and have your voice heard

Are managing diverse stakeholders and sometimes face conflict within your team or other departments

Feel you need support with communicating persuasively but don't know what your priorities should be

Know you're ready to take the next step in your career, life and impact but aren't sure on your direction or plan

Are seeking clarity of focus: knowing your priorities and what's important

Recognise the importance of visibility that's not about self-promotion but about influence and communication that serves the difference you want to make

Feel you need a set of tools, formulas and strategies to manage conflict, challenging behaviours, or being shut down

Want to take your wealth of experience and apply it with more impact to a new role or area of impact

Want to connect with a community of other women in government and private sectors around Australia

Want to better manage your energy, self-talk, mindset and relationship with yourself

Are yearning to understand the unique importance of your voice in your sphere of influence.
How will the masterclass run? Julia and Sarah will:
Support you into greater self-awareness and help you to smash the beliefs and inner narratives that get in your way

Share simple but powerful strategic communications tools and techniques to help you be a more effective presenter, writer and influencer

Provide a framework to translate your new skills and strategy into an action plan

Facilitate a community of supportive women who understand your experiences and can advocate for you
---
Program overview
The masterclass will cover the three pillars of visibility over two themed days:
DAY ONE: Visibility Foundation + Mindset
Introduction to the three pillars of visibility, including high impact global case studies
Visibility foundations: visibility audit, values and leadership vision
Unpacking the visibility mindset through the stories we tell ourselves
DAY TWO: Stepping out - Influence and impact
Strategic communications recipe for influence and impact in every setting
4MAT debrief: understanding your learning + communications style (diagnostic to be completed in advance)
Collective visibility challenge
The two days will comprise a mixture of facilitator led discussions, individual and groupwork.
---
About the program leaders
Julia May, Co-founder and Director, Visibility Co
Julia brings rich experience in strategy, business, leadership, coaching and communications, in Australia and abroad. She co-founded Visibility Co in the belief that inside every person and organisation has a deeper purpose, a bigger vision and the ability to reframe the future.
She is a founding team member of the global leadership initiative Homeward Bound, where she co-created the strategy and co-founded the visibility and communications program with Sarah Anderson. In just two years Homeward Bound recruited women leaders from 38 countries and forged partnerships with key thought leaders including primatologist Jane Goodall. Julia was on the program's first voyage to Antarctica, in December 2016, facilitating and coaching on purpose, strategy and visible leadership.
Sarah Anderson, Co-founder and Director, Visibility Co.
Sarah is an award-winning strategist and global engagement expert with deep experience across corporate, non-profit and government sectors in Australia and internationally. Sarah thrives on being at the forefront of change. She is driven by partnering with leaders, change agents and purpose-led organisations to facilitate strategic thinking that leads to collaborative leadership, personal and business growth, visibility and connection.
Sarah has spent more than 15 years in strategic and coaching capacities with a diversity of leaders and multinational companies including ANZ Bank in Australia and CBRE in London.
Sarah is a founding leadership team member for the global leadership initiative Homeward Bound, where she is lead communications strategist, supporting the project to reach more than 500 million people globally in just two years.
"Julia and Sarah were an absolute pleasure to work with... Their three pillars of visibility were a fantastic tool to apply to a key theme for the conference: 'Driving Change'. The interactive session gave delegates practical tools, particularly for reframing negative self talk. They received excellent feedback from our delegates, with comments such as; 'Wow! Amazing what vision and purpose can achieve. What a wonderful example of how to disrupt your thinking in a positive way. Reframing your thinking is such an important tool and it was really valuable to see this first hand.' They are professional, friendly and passionate about what they do and I look forward to working with them again soon."

- Sacha Morton, Program Manager, 2019 Women in Environment and Sustainability Leadership Summit
30 & 31 March, 2020, 9am - 5.00pm
Location
Online Masterclass

Contact Details