YWCA's International Women's Day Comedy Show - Sydney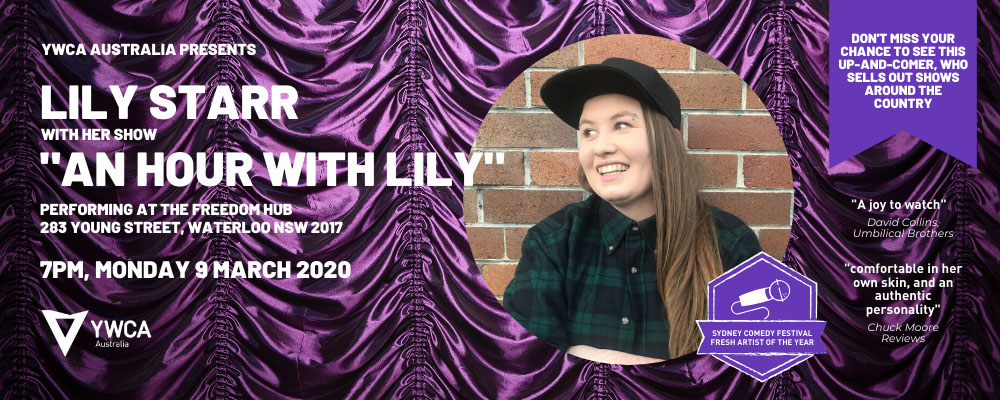 In 2020 YWCA Australia is introducing our Comedy Showcase, presenting some of Australia's leading, young, women comedians.

This year's comedian for Sydney is Lily Starr, and 'An hour with Lily Starr', combines the best of Lily's shows including 'Big Lez', and her new show 'Epilesby.'
Lily will give you KD Lang riding a unicorn into a Women's AFL game realness. She discusses love and life, providing insight into the intricate relationship between a grown woman and YouTube compilations of lesbian love stories.
Lily aims to answer the Big questions:
Why doesn't Kmart put all the flannel, denim and leather in the one section for lesbian convenience? When will I get over Dana's death? (- and no I cannot discuss Poussey yet!) Am I attracted to Whoopi Goldberg or do I want to be Whoopi Goldberg?
Lily is a comedian and performer from Sydney. She has been performing standup comedy since 2012, her debut in a show called "A nerd, a Blonde and a Lez walk into a bar" which was a great success. She also competed in Raw comedy competition making it to semi-finals. Starr is one half of the comedy duo Catlovers which sold out their debut performance in 2014 and continued their success in 2015 and 2016 selling out their Sydney Fringe Comedy shows. The duo took their show "Sex $ells?" out-of-state performing at the Melbourne International Comedy Festival 2017 and Adelaide Fringe 2017.

Lily Starr has had great success since her solo debut in 2017 with her first show "You're Welcome." She was one of the Sydney Comedy Festival's FRESH Artists of the Year 2017. Selling out her debut Sydney Comedy Festival run and an encore performance she continued her success later in the year at Sydney Fringe Comedy 2017 with another show "Mister." Starr continued her success in 2018 taking her show "You're Welcome" to Adelaide Fringe 2018 and Melbourne International Comedy Festival 2018. Starr toured Her most recent show "Big Lez" to Sydney Fringe Comedy 2018, Adelaide Fringe 2019 and Sydney Comedy Festival 2019. Resulting in a double encore with performances at Sydney's Comedy Store and The Factory Floor at the Factory theatre.

"Funny is in her blood." - By Anastasia Lambis HI-FI Way: The Pop Chronicles March 2019
"Big Lez", the show and performer, is funny, no matter who ya fancy. Lesson right there, students and others..." - Chuck Moore Reviews
"A joy to watch"- David Collins


Doors open at 6:00pm
Food service available prior to the show however, will close at 6:30pm
Looking for YWCA Australia IWD Comedy Events in other states?
Brisbane: www.trybooking.com/BHYVU
Adelaide: www.trybooking.com/BHYWS
Melbourne: www.trybooking.com/BHYLW
Sydney: www.trybooking.com/BHYWO
Location
The Freedom Hub
283 Young Street, Waterloo NSW 2017
The function room is wheelchair accessible. There will be an Auslan interpreter on the night.
Contact Details