WORKSHOP: Quadratura Photomural Workshop with Renjie Teoh (CANCELLED)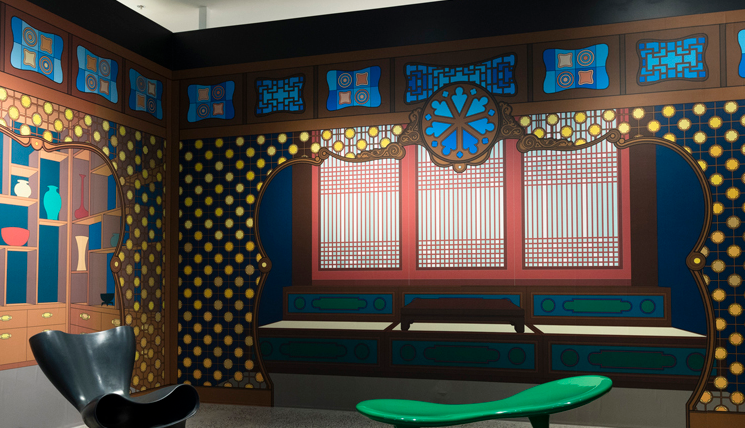 Image:

Marc Newson, Orgone Lounge 1989, fibreglass, Designed 1989; made by Cappellini, Italy about 2001, Museum of Applied Arts and Sciences, Sydney, installed at Bathurst Regional Art Gallery. Photograph: Silversalt. Background Lismore Quadratura by Renjie Teoh
.
DIY Photomural Workshop with Renjie Teoh

Create a Quadratura as seen in the RocoColonial exhibition at Lismore Regional Gallery.
The term quadratura describes a form of illusionistic mural painting in which images of architectural features are painted onto walls or ceilings so that they seem to extend the real architecture of the room into an imaginary space beyond the confines of the spaces real walls and ceilings.
In the RocoColonial exhibition Renjie Teoh has created a number of paper grid version of a quadrature, using Adobe Creative suite and a simple photocopy printer. In the workshop Renjie Teoh will take participants through the process of creating a quadratura photo mural and the artwork will be installed in Lismore's Back Alley Gallery.
this workshop RocoColonial artist, architect Renjie Teoh will take participants through the steps required to design, produce and install their own quadratura photomural. Starting with the participant's own artwork or photograph they will be shown how to import their image into a gridded, alpha numerical file. How to upscale this, add other images if necessary and to combine these to compose their own photomural. Participants will be then shown how to quickly create and save the individual printable files and finally, how to print, trim and install their image by working with Renjie in the afternoon session of the workshop to apply pre-prepared sheets directly to a wall and completing a large scale quadratura for the community.
What you need to bring:
A digital file of the picture, photograph or artwork you wish to develop into a photomural. After the workshop you will be able to print the full-scale version at home on any A4 printer or to take the files to a copy service for printing. You can make a black and white image and print this on coloured paper or you can develop a full colour image. Whichever path you choose the finished photomural you can install at home either by yourself or with friends helping you. If you do not have a digital image but do have a photograph or a drawing on paper bring that along and Renjie will show you how to digitise this using the camera in your phone.
Location
Lismore Regional Gallery
11 Rural Street Lismore, Lismore New South Wales 2480