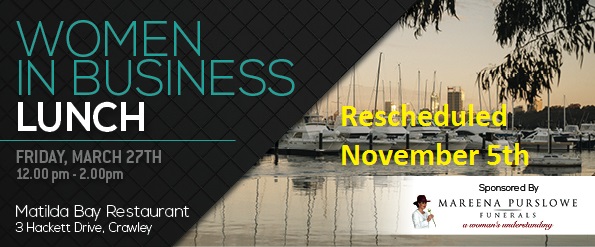 Women in Business Lunch
Matilda Bay Restaurant
Friday 27th March, 12:00pm – 2:00pm
Hot on the heels of International Women's day, join us for a brilliant event celebrating women in business, this event is generously sponsored by Mareena Purslowe Funerals
Hear from our fabulous keynote speaker and founder of Fempire, Marnie LeFevre.
Marnie is a self-made international business woman and bestselling author who is passionate about supporting women to achieve success in business and leadership, her adventures in business and the success she's achieved against all odds as a woman in business, are as captivating and inspiring as her nature and personality. She'll be sharing with you how she did it and how you can too!
Women are called to lead today more than ever, but how do we do that authentically and stay true to our natures? Fitting into a "man's world" is a struggle that many women face in business, and if it's such a great world why are we failing on so many fronts? Marnie will share with you the lessons she learned whilst navigating her success in a "man's world" and how leading from the feminine gave her more power and success than she could have ever predicted or dreamed of. She'll show you what feminine leadership looks like and hopes to inspire you to step up and lead authentically, on your own terms and from the feminine first.
We will also hear from Carmel Markham representing our sponsor, Carmel certainly knows a thing or two about creating memorable events in her career as a celebrant for all the significant occasions in all our lives.
So, luscious ladies, if you are a woman in business, this thought-provoking and engaging lunch is for you, come along to Matilda Bay Restaurant on the banks of the Swan River, lunch, learn and laugh whilst enjoying a delightful two course offering with free flowing drinks including coffee and tea and petite fours to finish.
Date: Friday 27th March
Time: 12:00pm – 2:00pm
Location: Matilda Bay Restaurant,
3 Hackett Drive, Crawley
Tickets:
WSBA Members: $104 (inc. gst)
Non-Members: $139 (inc. gst)
Tables of 8: $760 (inc. gst) ($95 per head)
Open seating unless tables of 8 are booked, so get your team together and book now.
Tickets include entrée, main, petite fours for dessert, free flowing drinks and tea & coffee. Cancellations must be received 48 hours in advance for refund.
We're looking forward to sharing a wonderful day!
Location
Matilda Bay Restaurant
3 Hackett Drive, Crawley WA 6009