OPERATION

PERSEVERANCE
EXSP2020

ANZAC EVE
BACKYARD SLEEP OUT
CHARITY SLEEP-OUT FOR HOMELESS VETERANS
SUPPORTED BY TENTWORLD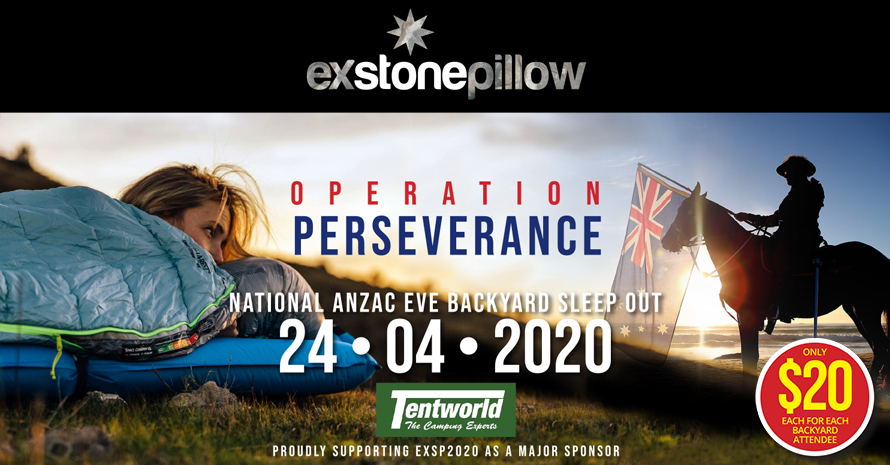 Celebrate the spirit of the ANZAC's
and raise vital funds to support veterans in crisis
In these unprecedented times, our call on crisis funds for financial support
of our homeless veterans or those at risk of homelessness has grown louder
as we are already down $100k due to the Covid-19 restrictions.
Our veterans and their families are at increasing risk and we need to raise funds to provide basic needs
and ensure stable accommodation as we have lost a significant source of fundraising.
We help hundreds of homeless veterans with short term accommodation and thousands of veterans and their families
all around Australia over the last 13 years who are in need of help with basic needs such as
food and petrol vouchers, phone, internet, utilities and rent payments.
Book your event NOW by 24/04/20
$20 per person

Go to
www.woundedheroes.org.au
for EXSP2020 merchandise.
Instagram will be live on the night - stay tuned.
*Conditions Apply
Venues
On 24th APRIL 2020, Exercise Stone Pillow (EXSP2020) events are being held at various backyards around the country.
Contact Details:
Sue Luxford
sue@woundedheroes.org.au
M: 0456 651717
https://www.facebook.com/WoundedHeroesAustralia/
www.exercisestonepillow.org.au
Another Wounded Heroes initiative