Robotics Online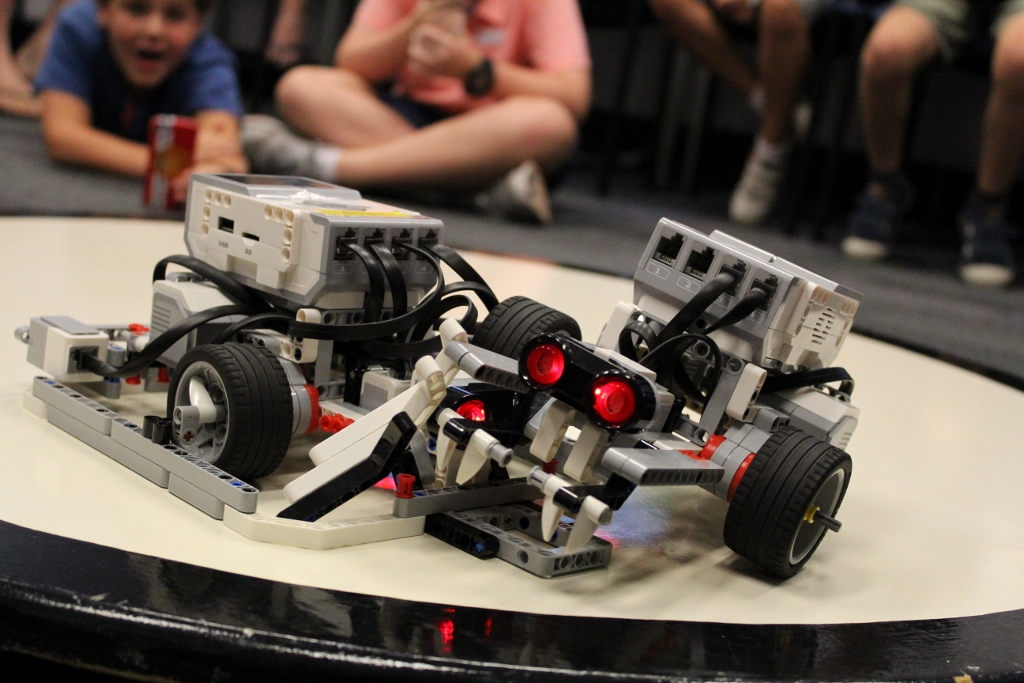 Robotics Online is part of the Project Bucephalus "Unlimited" program, and an extention of the Robo Clubs and Robo Camps, providing STEM education opportunities during the COVID-19 pandemic. As the lessons are run virtually, students from across the world are welcome to participate!
NOTE: Classes are created as demand requires. If there are no classes currently available, please Contact Us to arrange alternatives!
Please remember: Be Patient. Students and teachers alike are adapting to this new approach, and there will undoubtedly be issues on both sides. We will do our best to fix them as we find them!
Spaces are limited, and registration is essential.
Lessons run in two formats: Weekly (once a week) or Block (multiple days in a row). Students can sign up for one or both of these formats.
Students will need to provide a computer (with webcam and microphone) and MINDSTORMS® kit
After some experimentation, lessons will be conducted via Zoom meetings. Students will need an email account to be invited to these meetings.
After registration, students will receive participation links and an invitation to a DropBox folder to access class material.
Let us know if the class your're interested in is full. New classes will be added to accomodate demand.

Students can apply Creative Kids vouchers to this class. The option will be made available during registration.
Please note that registrations can also be made by getting in touch through the Contact Us page on our website - use this method if you have special requirements or any questions about the event.
COST: Cost varies depending on the number of lessons purchased and hire of equipment. In general, Weekly classes are $18 (Inc GST) per lesson, and a Block Class is roughly $56 (Inc GST). Click "Book Now" to see prices.
EQUIPMENT: Participating students will need a LEGO EV3 MINDSTORMS® kit. This can be attained in a number of ways:
We have arranged a deal with Modern Teaching Aids where all Project Bucephalus students will receive a 20% discount on MINDSTORMS® EV3 Core Sets – reducing the price to $699.51 (Inc GST) down from the normal $863.46. Contact Us if you are interested in this option.
There are (limited) opportunities to hire Project Bucephalus kits. This is done during the registration process and involves both a bond and fee.
See if you can borrow a kit from your local school - or your FLL team!
BACKGROUND: The Project Bucephalus robotics teams have been running robotics classes for adults and children since 2011. We offer an exciting program that builds interest in STEM (Science, Technology, Engineering and Math) in unique ways, with many former students moving on to become mentors themselves!
Project Bucephalus team members and coaches teach their students how to design, build, and program their own robots. The team will pass on their skills in teamwork, lateral thinking, and having FUN!
The Robo Club curriculum contains lessons and games designed to develop robotics, engineering, and programming skills. Catering to both beginner and advanced students, activities are mixed between single-week challenges and multi-week projects. The occasional competition is thrown in for good measure.
Visit our Robo Club page for further details of the normal workshops, and visit our FAQ for information on discounts, refunds, and age limits.
2020 Schedule - Weekly (Term 3)
Monday Afternoons, 4:00 pm - 6:00 pm (General)
| | | | |
| --- | --- | --- | --- |
| Term 3, Mondays Only | Set 1: | Set 2: | Set 3: |
| First Class: | 27th July | 17th August | 7th September |
| Last Class: | 10th August | 31st August | 21st September |
2020 Schedule - Block (Term 3 Holidays)​​​​​
Term 3 Block: Robo Rally
| | | | |
| --- | --- | --- | --- |
| Term 3: | 30th September | 1st October | 2nd October |
| Opening Session (Virtual) | 9:30 am - 11:30 pm | 9:30 am - 11:30 pm | 9:30 am - 11:30 pm |
| Work At Home (Offline) | 11:30 am - 2:30 pm | 11:30 am - 2:30 pm | 11:30 am - 2:00 pm |
| Closing Session (Virtual) | 2:30 pm - 3:00 pm | 2:30 pm - 3:00 pm | 2:00 pm - 3:00 pm |
Restrictions
Weekly class is open to students aged 7+.