Registers in the Raw: A World Voice Day Celebration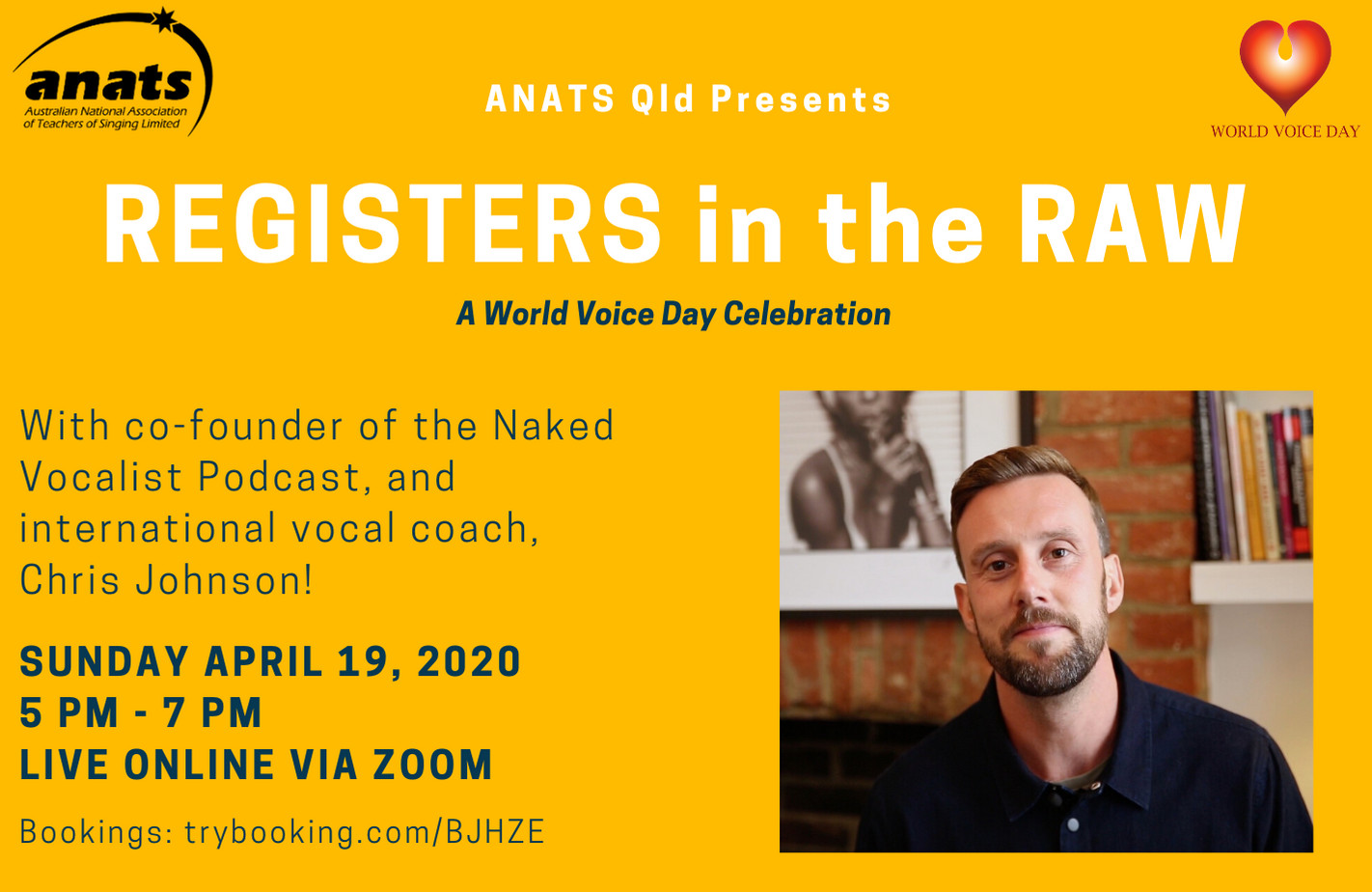 "Vocal Registers - The Mechanics & Acoustics"
ANATS Member - $20.00 (Previously $35.00)
Non-Member - $55.00
Student ANATS Member - $20.00 (Previously $25.00)
Student Non-Member - $35.00
A note about pricing from the president...
"ANATS recognises the economic hardship many singing teachers may be facing in the coming months. In order to support the continued professional development of our members, we have made a decision to subsidise all programmed chapter events that are able to be moved to an online format for the foreseeable future. These chapter events will now be available to members from all chapters, for a flat registration fee of $20.
Non-member prices will still apply as previously advertised.
Breaking down the science behind laryngeal mechanics and acoustic registration, and how they work in singing. Gain a deeper understanding of this essential element of voice, and learn practical tips for application in the studio.
Chest/Head/Mix? Mechanism 1/2/3/4? Lower/Middle/Upper? Fry/Modal/Falsetto?
The minefield of different approaches to identifying, naming, and teaching vocal registers is frequently a cause of confusion and disagreement amongst voice professionals.

This webinar from Chris Johnson aims to clearly distil up-to-date scientific information about vocal registers, and turn it into easily digestible bites of voice goodness that you can apply directly to your studio!

Chris Johnson, aside from being a co-founder of extremely successful voice podcast and blog 'The Naked Vocalist' is also a highly regarded teacher and voice expert in his own right. As one half of the Naked Vocalist Podcast Duo, Chris has interviewed some of the world leaders in vocal pedagogy, voice science, and voice medicine, including Dr Ingo Titze, Dr Jeannie LoVetri, Dr Gillyanne Kayes, Jeremy Fisher, Meribeth Dayme, Dr Reena Gupta and many others. Drawing on the combined knowledge and perspectives gained from these experts, and his own experience as performers and pedagogues, Chris is sure to deliver an exciting workshop!
ABOUT THE SPEAKER:
A vocal coach since 2008, Chris's coaching work is focussed on singers in contemporary commercial music, including singer/songwriters, major label recording artists, vocal coaches, working singers and backing vocalists. Chris also spent five years on the faculty at the Academy Contemporary Music (Guildford, UK) delivering vocal technique, style and improvisation modules to Diploma and Degree vocalists, helping them make their best start in the industry.
As well as a coach, Chris is a teacher trainer whose courses are designed to help contemporary singing teachers enhance their skills and apply the useful side of science to their work in the teaching room. He consults as a trainer for Vocology In Practice and Modern Vocal Training, as well as presents at conferences and institutions across Europe, the US and Australia.
Chris's coaching style has evolved through continuous collaboration with laryngologists, musicians, specialist coaches and physical therapists. It considers how our voices are hard-wired to be expressive, emotionally driven and reflexive, but guided by our musical curiosity and creativity.
Training in manual therapy techniques from Jacob Lieberman and Walt Fritz, along with regular monthly meet ups with researchers such as Dr. Ingo Titze and Brad Story, ensure that as a coach the science AND the art are always informing training.
Twelve years on the road as a working singer, facing all the challenges of maintaining a functioning voice, means Chris can fully empathise with the growing demands of the professional schedule; travel, diet, lack of rest, relentless shows, speaking commitments and inevitable stress.
In most recent years, Chris co-founded and presents the popular podcast and blog 'The Naked Vocalist', with over 350,000 downloads and counting.
.............................................................................................................................................
This event will be live streamed to all attendees via Zoom. Read the FAQ below for more info!
HOW WILL THIS WORK?
First and foremost, you have to book a livestream ticket! Just select a "Live Stream" ticket.
You will be emailed a link to a Zoom meeting that you will be able to access on the day of the event.
When the event is due to start, the Zoom meeting will start and you will be able to observe the demonstration lessons as if you were attending in person. You will also be able to use the chat function to submit questions for the Q&A later on in the afternoon.
WHAT IS ZOOM?
Zoom is an online video conferencing tool. It is very user-friendly and easy to set up. All you will need to do is click the link in the email you receive and, if you've never used Zoom before, download and install it.
This link (https://zoom.us/resources) has short instructional videos to help you get started. And this link (https://zoom.us/test) will allow you to test your set up and connection to make sure it's all working before the day.
DO I NEED ANY SPECIAL EQUIPMENT?
Nope! As long as you have a computer and a connection to the internet, once you've downloaded Zoom and clicked the link, you're good to go. Visit the test link above if you're worried that it might not work for you.
Zoom recommends internet speeds of 1.5Mbps (up/down). To check your internet bandwith, google "internet speed test" and select "Run Speed Test".
WHAT IF MY LIVE STREAM DOESN'T WORK?
We will send you contact details of a QLD committee member, who can help you troubleshoot if you are having issues on the day of the event. If something goes wrong or we just can't get it working, send us an email and we will organise a full or partial refund.
ARE YOU RECORDING THE EVENT?
At this stage, ANATS QLD is not recording the events; however, we are investigating this possibility to provide greater access for our members. Stay tuned for future announcements!
Location
Live online via Zoom
Contact Details