Serious Comedy proudly presents
Yianni Agisilaou: The Simpsons Taught Me Everything I Know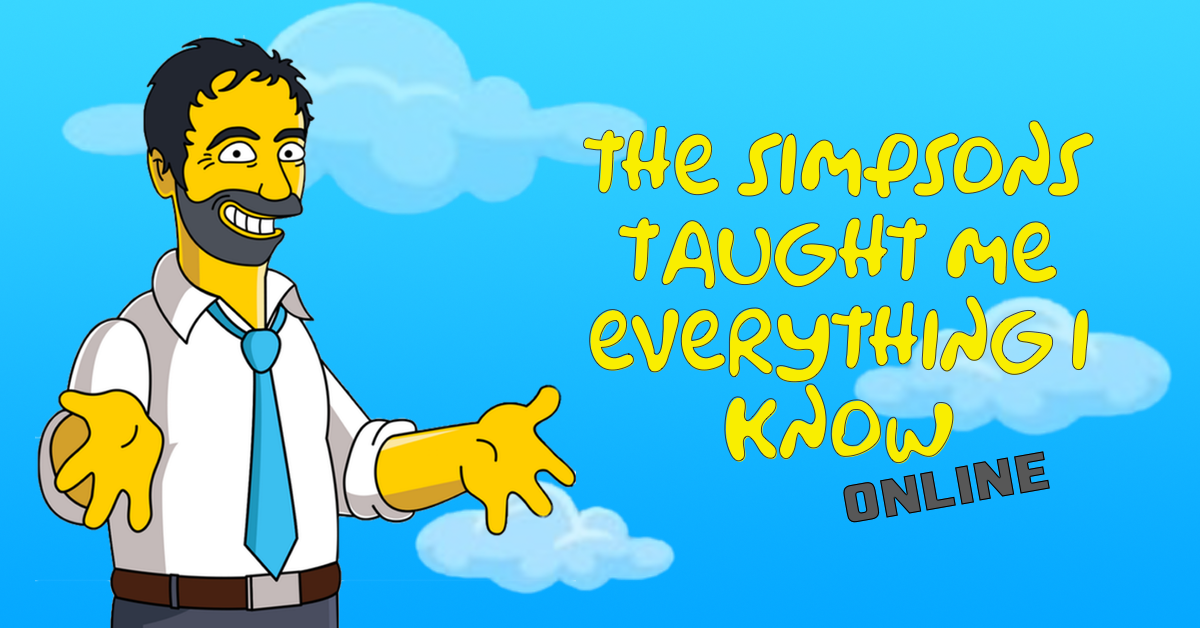 Yianni Agisilaou brings his worldwide smash show "The Simpsons Taught Me Everything I Know" to Zoom!

It's a live online, interactive comedy special!
SOLD OUT AT EDINBURGH FRINGE FESTIVAL 2016, FRINGEWORLD 2016, PERTH COMEDY FESTIVAL 2016,
MELBOURNE COMEDY FESTIVAL 2016, SYDNEY COMEDY FESTIVAL 2016.
Hi, I'm Yianni. You may remember me from such shows as Australia Says Welcome (Conditions Apply) and Gladys the Groovy Mule! I've also won comedy awards at Fringe festivals in Edinburgh, Ogdenville and North Haverbrook and by gum it put then on the map!
But today I'm here to tell you about my special online Zoom show coming to you from a pop up broadcast studio in Melbourne, a hilarious and cromulent look at a lifetime spend watching and quoting The Simpsons
. Can an obsessive knowledge of the world's longest running cartoon embiggen one's understanding or is that unpossible?
Whether you're a Simpsons tragic or just love the best show in TV history, it's a fun-diddly-un hour full of impressions, facts and stories including the true story of how I almost ended up as the replacement voice for Mr Burns and Smithers.
Go and see this show, even if you don't know who The Simpsons are ★★★★ ½ Daily Review
How he weaves in quotes using different character's voices leaves us all in stitches. ★★★★ ½ The Music
Deep and thoughtful as well as charming and intelligent. This is everything that a
good show should be ★★★★ The Skinny
Sharp social commentary to compare favourably to Woody Allen ★★★★ Chortle
Wonderfully funny ★★★★ Time Out
Stunningly Good ★★★★ The Scotsman
Tickets are based a Pay What You Can model. If you can buy a ticket (they're $5 - $30) that's GREAT! If you can't, book a free ticket. Just make sure you like Yianni's Facebook page, share the event, or sign up to the Serious Comedy newsletter (you know, all the nice word-of-mouth stuff).
This show has performances (Australia Eastern Daylight Savings time)
Online, via Zoom. You'll need a computer or other device with an internet connection. These times are based on Australian Eastern Standard Time (GMT+11). If you're not in Australia's eastern states, you can check your time using this nifty time zone converter.
If you booked tickets, you'll receive an email from gigs@seriouscomedy.com.au the day of the show with the login details and some more information on how Zoom works. If you haven't received this (and it's not in your spam) send an email over to gigs@seriouscomedy.com.au and we'll sort it out. You can also download a simple PDF on how Serious Comedy uses Zoom from the website here.
These shows are being broadcast from Footscray in Melbourne's west. We are working on the traditional lands of the Boonwurrung and Wurundjeri people of the Kulin Nation and pay our respects to their Elders, past, present, and emerging.