Serious Comedy & Short Fuse Productions proudly presents
The Anarchist Guild Social Distancing Committee
A sort-of live 12th Birthday reunion (online) for the Asylum Seeker Resource Centre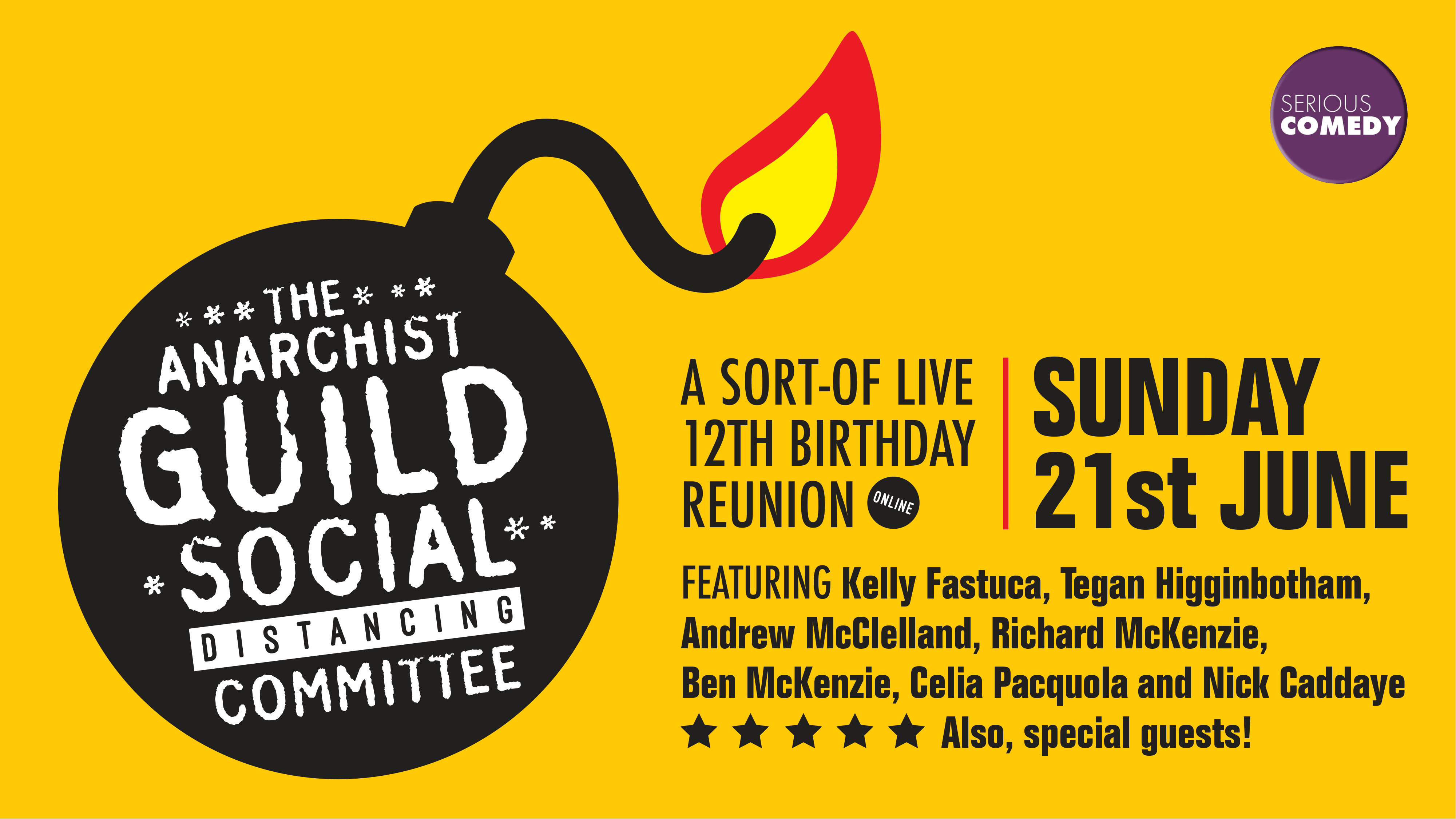 Australia's finest sketch–comedy team return to celebrate 12 years of laughs! Well… two years of consistent laughs and about fours gigs in the last decade, but whatever. We've been busy…
Featuring a bunch of pretty great (award-winning) comics: Kelly Fastuca, Tegan Higginbotham, Andrew McClelland, Richard McKenzie, Ben McKenzie, Celia Pacquola and Nick Caddaye.
New jokes! Old jokes! Live jokes! Pre-recorded jokes! The important part is that there will be jokes. Also, surprise special guests!
- live (but also pre-recorded) on Zoom
All profits go to the Asylum Seeker Resource Centre because the world is a dark place and why not have a laugh and raise money for people who need it?
Tickets are based a Pay What You Can model. If you can buy a ticket (they're $5 - $30) that's GREAT! If you can't, book a free ticket. Just make sure you like the artists' Facebook page, share the event, or sign up to the Serious Comedy newsletter (you know, all the nice word-of-mouth stuff).
Shows happen online, via Zoom. You'll need a computer or other device with an internet connection. These times are based on Australian Eastern Standard Time (GMT+10). If you're not in Australia's eastern states, you can check your time using this nifty time zone converter.
If you booked tickets, you'll receive an email from gigs@seriouscomedy.com.au the day of the show with the login details and some more information on how Zoom works. If you haven't received this (and it's not in your spam) send an email over to gigs@seriouscomedy.com.au and we'll sort it out. You can also download a simple PDF on how Serious Comedy uses Zoom from the website here.
These shows are being broadcast from Footscray in Melbourne's west. We are working on the traditional lands of the Boonwurrung and Wurundjeri people of the Kulin Nation and pay our respects to their Elders, past, present, and emerging.